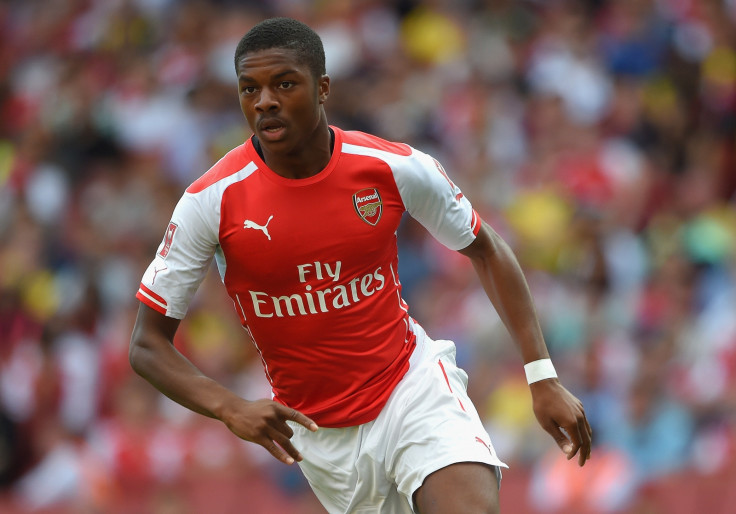 Arsenal striker Chuba Akpom is joining Championship club Nottingham Forest on loan for the rest of the season, chairman Fawaz Al-Hasawi has confirmed.
Akpom has played seven times for the Gunners this season, with Premier League appearances coming twice against Southampton and the home win over Aston Villa.
With Arsenal fighting on two fronts during the twilight of the campaign, Akpom was expected to leave the club on a temporary deal as Olivier Giroud and Danny Welbeck are likely to lead the attack.
Al-Hasawi wrote on Twitter: "I am delighted to announce that Arsenal striker Chuba Akpom has joined us on loan until 31 May."
The 19-year-old scored the equaliser in England Under-20's draw with Mexico before netting a spot kick in the shoot-out victory in Barnet.
The ex-Brentford and Coventry City loanee is available for the resumption of Forest's Championship campaign against Wolverhampton Wanderers, while games against Brentford and Ipswich Town means the player could yet influence matters in the promotion race.
Forest are themselves 10 points adrift of the play-offs and require a perfect end to the campaign to force their way into the top six.
In February, Akpom penned a new four-and-a-half year deal with Arsenal keeping him at the club until 2019 and the player admits the star-studded dressing room in North London means he is learning every day.
"I speak to Tomas Rosicky a lot," he told the Arsenal Magazine. "He is a legend and he is always giving me advice and telling me what to do more of.
"The one thing he always tells me is to always be moving, so you make a movement and if you don't get the ball you then make another move to ensure you are available.
"He also encourages me to mix my game up: to take a few touches here, then the next time to take one touch and then spin away. He knows what he is talking about, he's world class so it's great to learn from these types of players.
"When I look around and see the likes of him and Mesut Ozil... these are people you play on Fifa with, that you watch on TV, so for me to be in the changing room with them... it's amazing."