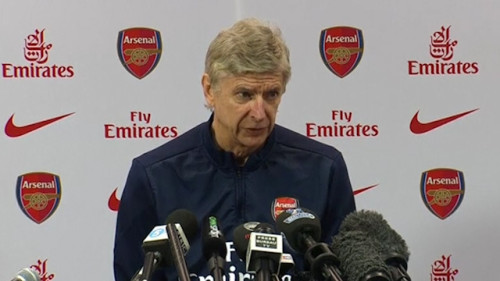 Arsene Wenger has revealed that he is still unsure over the extent of Nacho Monreal or Tomas Rosicky's injury but fears that the duo may have to spend a long time on the sidelines.
Monreal, who was in the squad to cover for the injured Kieran Gibbs, crashed into a challenge with an Aston Villa defender and hurt his metatarsal, which will now be scanned to check if it has resulted in a fracture. The Gunners already have a host of players out through injury and any further setback is the least they can afford as they enter a crucial juncture in their title chase.
Theo Walcott, who was in electrifying form since his return from an abdominal injury, has been ruled out for the season with an anterior cruciate ligament tear and will join Abou Diaby in the sidelines. Aaron Ramsey has a thigh strain and is expected to be available against Fulham while Nicklas Bendtner is out for two more weeks with an ankle injury. Thomas Vermaelen also has a niggle which kept him out of the side against Aston Villa but should be fine to start next week.
"Rosicky has a bad nose, I don't know is it broken or not, it looks bad. Honestly I didn't see the elbow, I have to watch it again. He [Tomas Rosicky] told me that he got the elbow but he himself doesn't know if he did it on purpose. He doesn't know. I think Monreal is an accident but we have to check his metatarsal tomorrow morning because he got kicked on the top of the laces," Wenger told www.arsenal.com.
The Frenchman revealed that he is not too worried by Manchester City and Chelsea's victory over the weekend and insists that they can do nothing but to win their respective games to stay in the title race.
"We had to give a strong response because everybody looks at you and see if you drop points because they have made their points over the weekend so the only way you can deal with that is we were a bit more under pressure when you play last. You know that you're not allowed to drop any points but you can only give one answer and that is to win the game," he concluded.