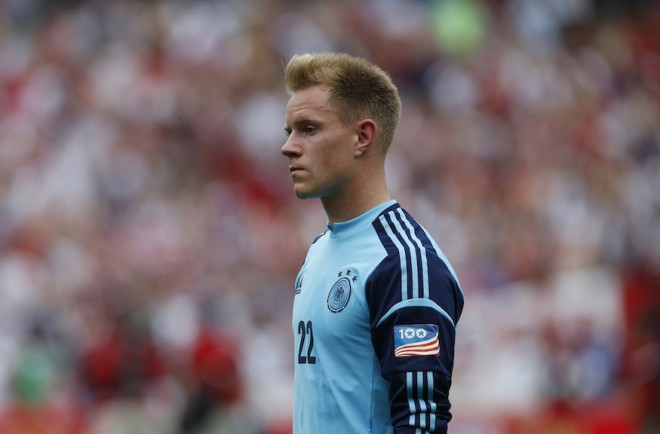 Arsenal goalkeeper target Marc-Andre ter Stegen, 21, has secretly passed a medical ahead of his move to Barcelona this summer to replace Victor Valdes at the Camp Nou, according to German reports.
The Gunners have been heavily linked with the Borussia Monchengladbach goalkeeper lately but reports in Spain claim ter Stegen had already agreed terms to move to Barcelona, as Valdes' contract is set to expire at the end of the season.
The Catalan keeper, who has spent more than a decade at Barca, announced his desire to quit the club over summer.
German newspaper Bild reports the young German stopper passed the required medical tests last week in Germany with the Barcelona medical team. Specialists confirmed Ter Stegen is in a perfect physical shape so his move is considered closed, pending an official announcement. The deal will cost around £12m.
As Ter Stegen has decided to become the new Barcelona number one, Arsenal boss Arsene Wenger will have to keep looking for another reliable back-up to Wojceich Szczesny and the Gunners may consider renewing their efforts to sign Victor Valdes or even Real Madrid star Iker Casillas.
At first, Pepe Reina was the obvious choice for Barcelona. The Liverpool goalkeeper, who is currently on loan at Napoli, came through the ranks at the Camp Nou with Valdes and has long dreamed of a return to the club.
However, it seems Barca have another plans and Tata Martino has already made his choice: the younger Ter Stegen. Despite his tender age and lack of Champions League experience, the German stopper has been on Barcelona's radar for a long time and it seems the move is not close to reality.