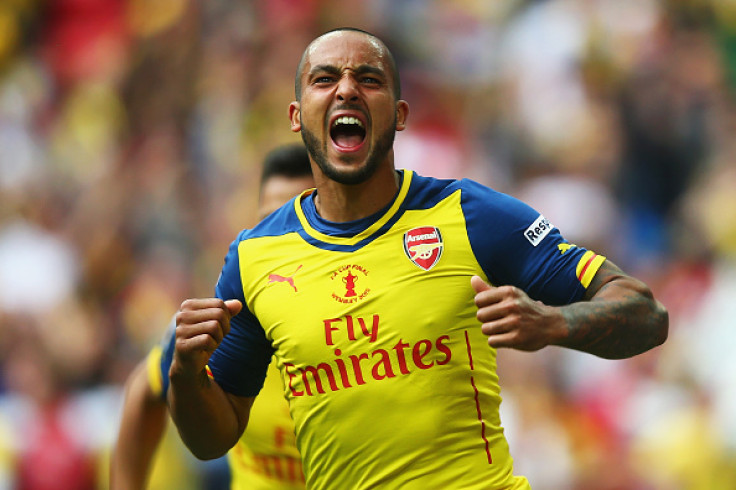 Arsenal forward Theo Walcott believes that the Gunners have the talent to beat Bayern Munich and get back in contention for a place in the knockout stages of the Champions league. The Gunners have played two and lost two matches thus far in the group stages, but Walcott insists that a performance replete with all the positives of their win over Manchester United, could turn the game in their favour.
The north London club have been in brilliant form in the league thus far, scoring 11 goals and conceding only two in their last three games. Arsenal have also kept the highest clean sheets in the division at five, and have let by only seven goals.
However, individual mistakes against Dinamo Zagreb and Olympiacos saw their European dream come crashing down like it has over the past few years. In Croatia, Olivier Giroud's red card in the opening half left them with a mountain to climb as they conceded two soft goals, while against the Greeks it was David Ospina, whose own goal let the visitors back in the lead.
Walcott, who scored two goals against United and four in all competitions, believes that all is not lost in relation to their Champions League hopes. The Gunners will have a double header against Bayern to contend in their next two games, where anything more than three points would put the group back in balance.
"Playing against Bayern and their quality is of course going to be a challenge for us, but we are at home with our support and we need a similar sort of performance like we had against Manchester United," Walcott said, as quoted by the Mirror.
"We know we can beat anyone and we're going to be completely ready for this one. We need to move on from the first couple of results in the Champions League. We know we are capable of getting results against Bayern and we want to put things right.
"Looking at our last Premier League home match against United, the intensity of our game was different to what it was like against Olympiacos in the Champions League," the forward said.