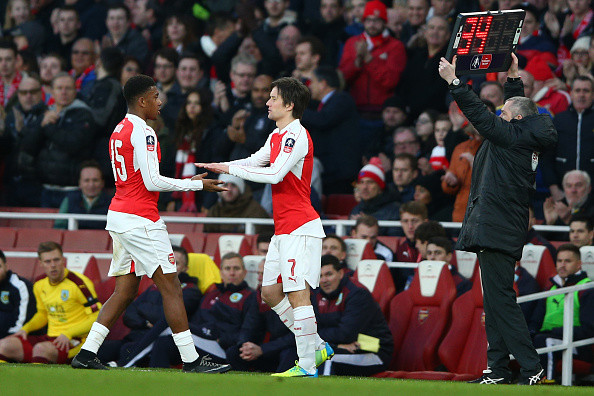 Arsenal midfielder Tomas Rosicky has promised Gunners fans he will come back stronger from his latest injury blow in order to repay them for the "exceptional" reception he got at Emirates Stadium during the FA Cup game against Burnley. The Czech international made his first appearance of the season as a 71st-minute substitute in the 2-1 win following his summer groin surgery, but picked up a knock on his thigh which would seem him out for around two or three further months.
Arsene Wenger claimed during the press conference on Friday (5 February) ahead of Saturday's game against Bournemouth that it looks like a "quite serious" injury, refusing to confirm whether the 35-year-old will play ever again for the Gunners as his contract will expire at the end of the season.
"I hope [it is] not [his last game] because his injury is quite serious," Wenger said. "The good news is that apparently he will not need surgery. It is a partial rupture of his tendon but how long it takes, two-three months? I don't know but of course he is shocked. We have to hope that it is not his last game. I don't to be dramatic because he has suffered enough at the moment. We are being supportive rather than dramatic."
Rosicky has admitted the latest setback is "heartbreaking", having being hit by injuries during his 10 seasons spell at North London. However, he claimed that he will come back once again to repay the support after admitting he had tears in his eyes when he made his Arsenal return against Burnley.
"It was unbelievable, something I didn't expect," he told Arsenal Player. "Since the moment I started to warm up on the sidelines it was exceptional. Honestly, I had tears in my eyes after such a long time being out.
"I started to warm up and the reception was unbelievable and I will never forget it. Obviously it is the worse thing [getting injured again] and the feeling I cannot give the fans anything back at the moment is frustrating."
"I was out for a long time so obviously the relationship with the fans after 10 years was always great and they always knew I played my heart out and they always appreciated me, and I appreciated them.
The veteran Czech international admitted that he has been devastated in recent days but will not give up yet despite his contract is set to expire at the end of the season.
"In life things will be thrown at you and you have to deal with it. You are defined by how you deal with these things and I will deal with it again and I will be back again," he admitted. "It's been a hard few days for me to accept. Sometimes you always say that you can always do better or that you can always improve more and more, but I don't know what more I could have done.
"I've always come back from everything and I will come back again, I will not give up. I will make it happen once more, I will have the strength to make it, I will find it and I will be back again."