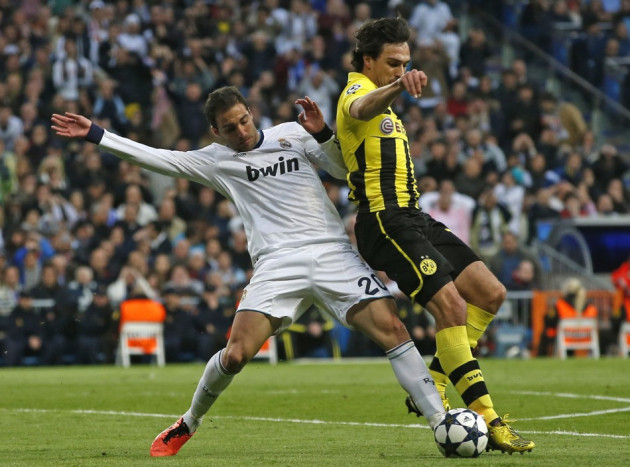 Gonzalo Higuain has been left confused over whether he will be making the move to Arsenal or not after the club made a reported bid for Luis Suarez this week.
While some publications are claiming that the Gunners put in an official offer of £30m for Suarez's services others are reporting that the north London side have only enquired over the Liverpool's striker's availability at this stage.
And though Higuain had thought he was set for a move to the Emirates in the next week, Marca now reports he's been left in the dark in the aftermath of the club's move for another target.
While Higuain had been hoping that the deal would be finalised to join Arsenal this week - he had instructed his agents to get an agreement over the line before the 15th July - that plan has fallen apart and he is now preparing to train with the Real Madrid squad next Monday and discuss the possibility of staying with new manager Carlo Ancelotti.
Arsenal are believed to be on the lookout for a striker in this transfer window, but Real Madrid president Fiorentino Perez confirmed that the club are yet to make a concrete offer for Higuain's signature.
Should the transfer go through, it will be a major coup for Arsene Wenger, who has often been reluctant to spend big on an established name to help build on his squad.
While in the last few weeks the transfer looked to be particularly close, Wenger's £30m enquiry over Suarez brings into question whether the manager was ever seriously chasing Higuain, or simply including him in a long list of possibilities of targets.
Meanwhile Real Madrid are continuing to be connected to a possible deal for Suarez, but recent reports in Spain suggest Ancelotti is making it his priority to keep Higuain rather than pursue the Uruguay international.