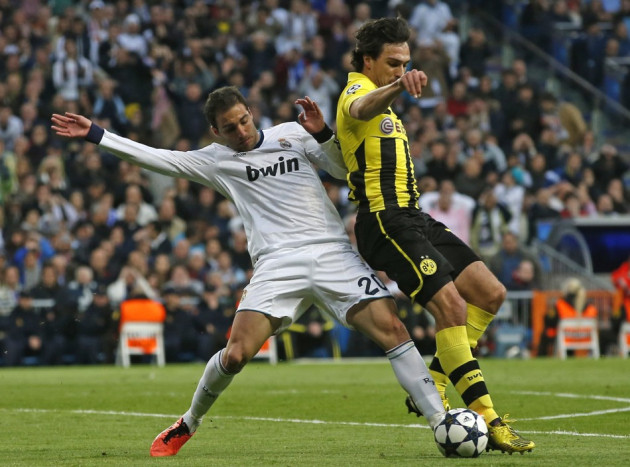 Real Madrid manager Carlo Ancelotti will hold talks with striker Gonzalo Higuain in the hope of talking the Argentine out of a move to Arsenal.
Higuain has long been on the Gunners' radar, and in recent weeks the man who scored 18 goals last season has reportedly been on the verge of agreeing a deal to move to the club.
But with no confirmation from Arsenal or Madrid that the agreement has been reached, AS are reporting that Ancelotti is still hopeful of keeping Higuain in the Spanish capital while shying away from interest in Luis Suarez or Edinson Cavani.
Higuain's family have spoken of his desire to leave Madrid this summer, with the 25 year old suffering from limited starts and a failure to sign a new contract.
With a substancial price tag, Higuain represents a player not normally prefered by manager Arsene Wenger but the Frenchman is reportedly considering breaking his usual transfer policy this summer as Arsenal look to get back in the mix with the Manchester clubs and Chelsea.
The need for another striker to add depth to the Gunners' squad has been well documented. And this week, Liverpool reportedly confirmed that Arsenal had made a bid for Suarez, in a strange twist to the clubs' search for a world-class attacker.
Suarez had claimed he wanted to leave England this summer, therefore the move by Arsenal for the Uruguay international looking all the more puzzling.
But some have claimed that the move might have been more of a tactical one than a real bid for Suarez, with the north London side hoping to show Madrid that if they drag their feet over Higuain, Wenger can go elsewhere.
Another issue with the Higuain negotiations is that Arsenal have reportedly not offered enough for the star. Real Madrid are hopeful of receiving up to €35m, according to the Spanish paper, while the Gunners are hoping to land him for €25m.
But Higuain is still believed to be hopeful that the deal will still go through to join Arsenal, and has instructed his agents to make it happen by 15 July at the latest.