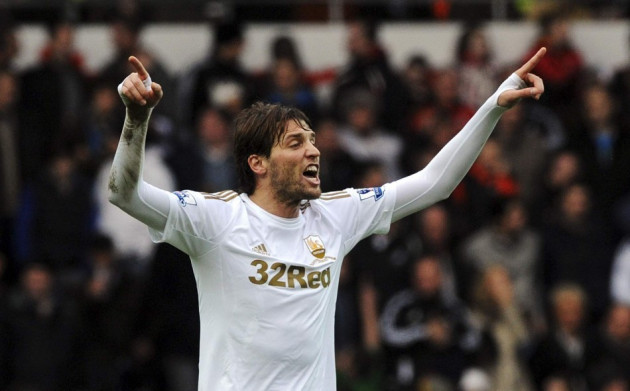 Arsenal have been handed a major boost in their pursuit of Swansea striker Miguel Michu, with the player ready to quit Swansea for an opportunity to perform in the Champions League.
The striker was actively linked with a £25m move to the Emirates last summer after a brilliant first season with the Swans. However, an injury-hit start to his campaign meant that he has failed to scale the same heights as last season, when he helped his side win the Capital One Cup and qualify for the Europa league. The Spaniard scored 18 goals in the league last season, in 35 starts but has managed only 2 this season in 11 appearances.
The Gunners are in need of a striker who can cover for Olivier Giroud as the Frenchman is finding it hard to maintain performance levels in a congested fixture list. The striker missed two glorious opportunities to bring Arsenal back into the game and had a goal struck off in Arsenal's 6-3 defeat at Manchester City on Saturday. Michu's arrival will give them some much needed firepower up front for a title charge and also add a little more creativity to the squad which was lacking up front.
"Every player dreams about playing in big teams, clubs who play in the Champions League and fight for titles. I am no different. I'm very happy at Swansea but it is obvious that every player wants to grow up and see how far you can go," Michu said.
Meanwhile Wenger believes that an extra day's rest could have allowed them to play more freely in their 6-3 battering at the Etihad stadium.
"I don't want to look for excuses after a defeat like that but it didn't help. You know take any team you play Sunday afternoon, Wednesday away in the Champions League and Saturday morning away in league you are under threat. I said before the game I will not use it as an excuse and I don't want to do it now. But it was not ideal, you could see that we were not as fresh as we should be for a big game," Wenger told www.arsenal.com.