Arsenal are considering an approach for Swansea City striker Michu before the transfer window ends on 2 September, according to the Mirror. The north London side have failed to add high-profile names to their squad, despite the board backing Arsene Wenger with a transfer budget of £70m.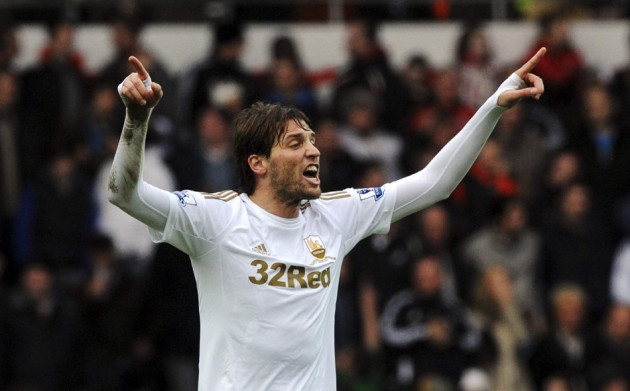 The Gunners have previously been in pursuit of Manchester United striker Wayne Rooney and Liverpool frontman Luis Suarez. However, neither United nor Liverpool wants to lose one of their key strikers.
With time running out for Arsenal, Wenger has turned his attention to the Swans forward. The Welsh club signed Michu at a bargain price last summer. He was an instant success in his first season in England.
The report claims Swansea chairman Huw Jenkins is unwilling to let his star player leave unless Arsenal are ready to pay £25m for his signature. Michu signed an extension with Swansea earlier this year and his contract runs down in 2016.
Jenkins believes there is an agreement in place that could see the clubs interested in Michu meeting his £25m asking price. Swansea have signed another free-scoring striker, Wilfried Bony from Vitesse, this summer and the Mirror claims they are in the market for another attacker.
Meanwhile, Swansea manager Michael Laudrup remains confident of keeping Michu at the Liberty Stadium. He said that only a "ridiculous bid" would make them consider letting the forward leave.
"I have not even discussed the idea of Michu leaving with anyone as I am so convinced that he wants to stay here this season," the Metro quoted Laudrup as saying.
"I don't want Michu to leave for any amount in the world, but if someone comes in and gives an absolutely ridiculous bid then I can understand if the player or the club say this is way beyond what we could expect in the future," Laudrup added.
The 27-year-old Michu has already proved his worth in the Premier League, scoring 18 goals in his debut season. With less than a fortnight left until the transfer window closes, the addition of Michu to Arsenal's squad would dramatically improve an attack that missed countless chances in the Gunners' 3-1 home defeat to Aston Villa on Saturday.