Arsenal Transfer Rumour: Battle with Barcelona set for £20m 'German Messi' target
Mario Gotze is only interested in joining Arsenal or Barcelona, according to reprots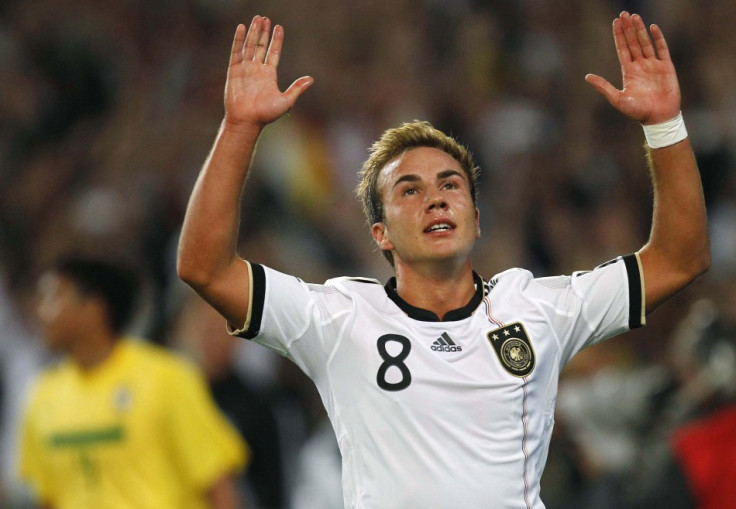 Arsenal will have to contend with Barcelona in their pursuit of Mario Gotze, multiple reports are claiming, with the youngster set for a transfer battle when the window opens up in January.
Stories have been circulating that Gotze is a target for numerous European clubs, though Borussia Dortmund are continually insisting that their top talent is not for sale until the summer transfer window at least.
Arsenal have long been claimed to be a front runner for Gotze, but now Barcelona are also being touted as a possible destination for the Germany international, as the club fight to maintain their chance of challenging for the La Liga title.
According to the Daily Star, Gotze told an unnamed source that, "he likes the way Arsenal play the game and for him there are only two clubs where he'd like to play once he moves from Dortmund - Arsenal or Barcelona."
Manchester United, Manchester City and Tottenham are also said to be interested in Gotze, but Arsenal are the only English club so far to confirm their desire to take on the starlet.
Whether Arsenal can afford him might be an issue though, with a fee of £20 million being touted as a starting price. And if Barca are willing to compete with the Gunners, his price is said to be able to reach as high as £30 million.
Gotze has maintained on numerous occasions that while he's flattered by interest from clubs around the continent, he is concentrating on bringing Dortmund to glory in the domestic league and Europe.
The German club are currently top of the Bundesliga table, but are bottom of their Champions League group, and face an almost impossible task of qualifying for the last 16 in the tournament.
And after playing twice against Arsenal this season, with one match up ending in a draw and the other in a win for the Gunners, Gotze has experienced first hand how the north London side play.
Arsene Wenger's comments on Gotze after the tie with Dortmund last week showed just how highly the manager thinks of him.
"For me, Mario Gotze is a player for the future," Wenger said at the time.
"He is very talented, has a great attitude. It's no surprise to me that all big European clubs show interest in him, as we do also."
And with Gotze being compared to Lionel Messi by numerous media outlets, along with German legend Franz Beckenbauer, the wonderkid would be a great coup for Arsenal if they were able to secure his signature.
© Copyright IBTimes 2023. All rights reserved.