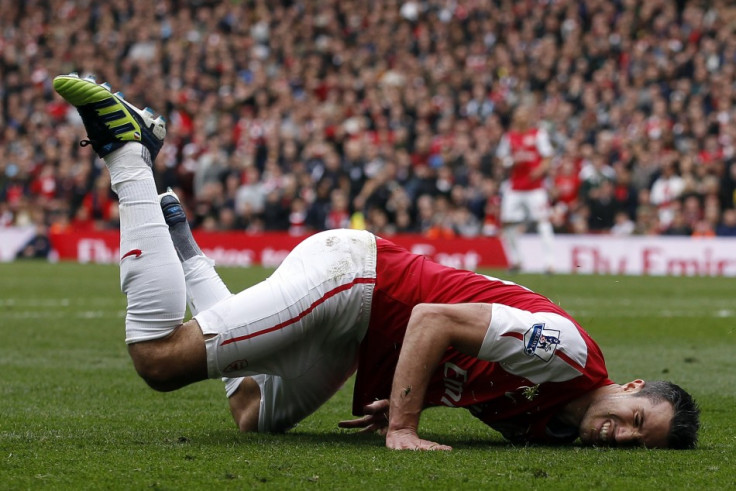 Arsenal legend George Graham believes the club could be faced with no other choice than to sell striker Robin van Persie to Manchester United, if the Dutchman demands a move to Old Trafford.
The Red Devils, along with rivals Manchester City and Serie A giants Juventus and AC Milan, have been linked with a move for the unsettled forward who recently revealed he would not sign a fresh contract with the Gunners and would be satisfied even to walk away as a free agent next year, if he is not sold this summer. Arsenal have already rejected a bid from United for van Persie but Sir Alex Ferguson's side is expected to return with an improved offer.
"I think he will definitely be going. They won't want to see him through the contract and then be a free agent next summer. They will pick the best fee for him. It will be a great signing for Sir Alex. I wouldn't think Arsenal want to sell him to Manchester United. But they are not in the driving seat. If van Persie really wants to go there, then from a business sense they would have to sell him," TalkSport quoted Graham as saying.
Van Perise joined Arsenal from hometown club Feyenoord eight years ago and has made 279 appearances for the club in all competitions, notching an impressive 132 goals and 63 assists. But the only title he has won during that period was the 2005 FA Cup and Graham feels the Holland international has the right to ask for a move to another club so he can win trophies. Ironically, Graham moved to Old Trafford in 1972, after spending seven seasons with the Gunners and winning just the 1971 FA Cup.
"You have to sell van Persie and move on, and Arsenal need to tell everybody that they can't compete on the financial aspect, that they can't compete with Chelsea, Manchester City, even Manchester United. If the club have to sell their top player they also have to tell their fans it has to be done this way. Last year it dragged on with [Cesc] Fabregas and players were brought in late and Arsenal had a bad start, culminating with an eight-goal hammering at Old Trafford," ESPN quoted the Scot as saying.
"With van Persie it needs to be done and dusted, he has made his statement, he has said the club lack ambition so the club need to get the best offer they can and move on. van Persie has another year left on his contact and Arsenal tried to negotiate. He knows he can get a better offer elsewhere but it's not just about an offer it is about winning trophies and Arsenal haven't won a trophy for five or six years and that comes into the equation, whether the club are ambitious enough," the 67 year old stressed.
Graham was in charge of Arsenal for nine years, before the Wenger era started, winning two league titles, two league cups, an FA Cup and a UEFA Cup Winners' Cup. Several Arsenal players, including former captain Tony Adams, opined Graham was a far better manager than Wenger but the Scot says even he could not have secured better results in the current situation, even with the talismanic van Persie in his side.
"What more could Arsenal have done with van Persie? I am not sure they could have done more, or if I would have done it any differently," Graham pointed out.