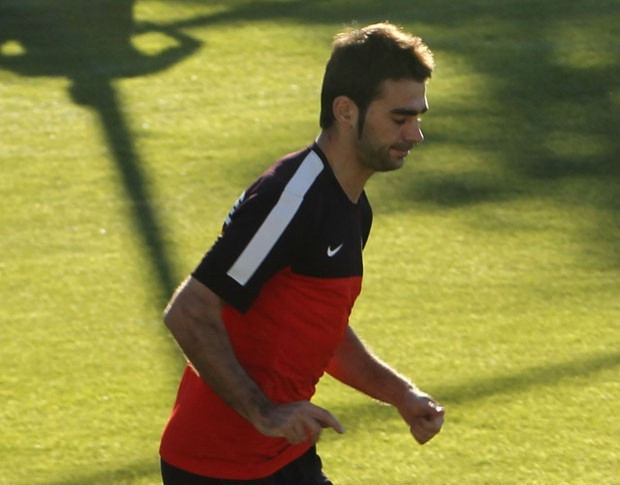 Arsenal are reportedly targeting Atletico Madrid's Spanish striker, Adrian Lopez, as replacement for England international Theo Walcott.
Walcott is in the middle of talks to extend his contract at the Emirates, which expires at the end of this season. However, so far negotiations between the concerned parties have stalled, with disagreements over wages and tactical positions. Should Walcott and Arsene Wenger not come to an understanding soon, it could even be the Gunners cash in on the England international in January, rather than lose him for free next summer. Italian champions Juventus are reportedly very interested in the player.
Meanwhile, as far as Lopez is concerned, the Spaniard is believed to have a £14.4m release fee in his contract with the Vicente Calderon outfit. However, given the Gunners are expecting a £35m transfer chest for the January window, they are unlikely to be put off by the amount, although Wenger would certainly love to get his man for less.
The Emirates club were also linked to two more strikers playing in Spain - Lopez's club team mate, Colombian Radamel Falcao, and Athletic Bilbao's Fernando Llorente. However, given there is serious interest in Falcao from both Chelsea and Manchester City... and transfer fees in the region of £50m are being spoken of, it is highly unlikely the Colombian will become a Gunner.
Llorente is a more reasonable alternative though. The 27 year old Basque is in the final year of his contract and has confirmed he will not re-sign with the club, meaning he could potentially be available on a free next summer or for a small fee in January.
Arsenal have already made it clear they will not radically revise or break their existing pay structure for any player, including Walcott.
"We have got our general overall wage structure and we are not prepared to break it for anybody. We have made an offer which he didn't think was acceptable and that is the end of it. We think it is a very reasonable offer. I hope that he will eventually come round and sign," club chairman Peter Hill-Wood said earlier.
Meanwhile, Walcott, who was injured in a horror tackle during England's World Cup qualifier against San Marino, is expected to be unavailable for the rest of the month, after suffering a chest injury. The former Southampton graduate will miss the Gunners' games against Norwich City and Schalke 04.