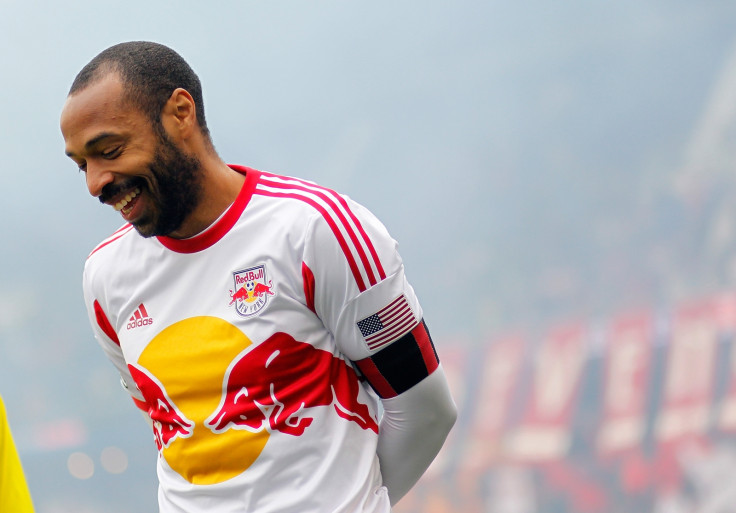 Paris Saint-Germain head coach Laurent Blanc has played down the possibly of the club signing Arsenal legend Thierry Henry on a short-term basis.
The 37-year-old striker will leave New York Red Bulls after a four-year spell with the MLS club but has not ruled out retirement, claiming he will take "a few weeks to reflect and decide on the next chapter of my career".
Henry has inevitably been linked with a return to north London as a coach where he scored a club record 228 goals during his eight years at the Gunners but the French champions has also been credited with interest in the striker.
PSG made a similar move to with David Beckham when they signed the former England captain on a five-month deal in 2013 following his departure from the MLS but Blanc has hinted they will not be offering Henry a return to French football.
"Could he play six months at PSG like Beckham? I've not thought about that," Blanc told reporters, the Evening Standard report. "He could still play, he loves the game so much. I don't know if he will retire or not. It wouldn't surprise me if he continued to play. He's had a great career and is a great player."
Meanwhile, Arsenal boss Arsene Wenger believes Henry's return to the red half of north London is inevitable.
"Thierry wants to reflect before he decides," said Wenger. "I made him start at 17; today, he's 37. That's 20 years of competitive football. He deserves respect for his attitude and achievements.
"He's an Arsenal man. It was the best moment of his career here.
"Certainly one day he will come back. As for what role, I don't know. He has all the qualities - he is - he has to think do I want to sacrifice all my life to do this job. At 37, I think he doesn't want to play in PL."