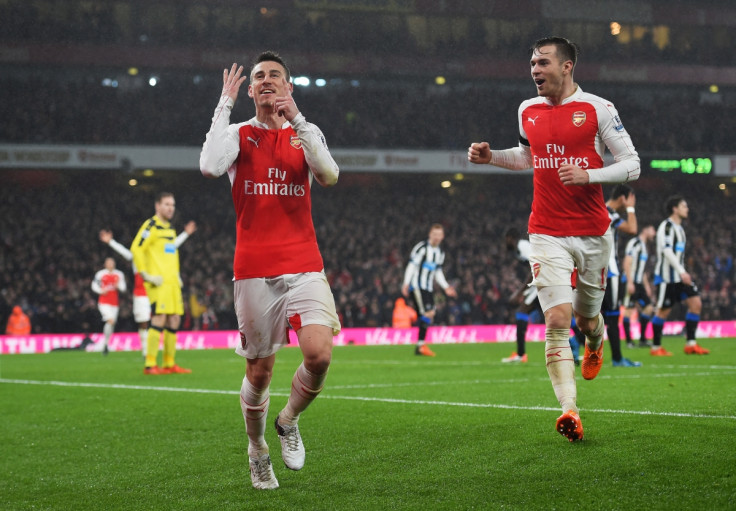 Former Arsenal defender Martin Keown believes it is time for Laurent Koscielny to step up and show that he is the true leader that Arsenal have been lacking over the years. Keown believes that for Arsenal to win against Leicester, Koscielny has to track Jamie Vardy and anticipate his runs. Otherwise, it could lead to the Gunners falling eight points behind the league leaders.
Vardy has scored 18 goals this season and has two against the Gunners in the reverse fixture at the King Power stadium, where the north London club annihilated Leicester 5-2, with Alexis Sanchez scoring a hat trick. The Chilean is now back after recovering from a hamstring problem and Arsene Wenger will be hoping that he can have a similar impact this time around,
"It's not enough to be quick, you have to understand the game and how Vardy plays. He wants the ball played behind the defence so he can run on to it, particularly down the left-hand side. That way he can cut back in on his right foot," Keown said in his column in the Daily Mail.
"Arsenal's Laurent Koscielny will need to see that move before it happens and make sure he is in position to prevent it. If Koscielny is the new leader of the defence, let's see it."
Keown has warned Leicester that they need to keep their calm like they did against Manchester City last weekend, as a win here will make them prime favourites for the title, but a loss would throw the title race wide open yet again. The pressure will not be on manager Claudio Ranieri to keep his players grounded, as any lapse in concentration could be fatal in their title charge.
"Are we finally coming to squeaky bum time for Leicester? Sunday's game at Arsenal will focus the minds of both teams. I don't think it helps Leicester that they've had seven days to think about this match. They are a high-octane team full of hungry players," adds Keown.
"I can only imagine what it's like for Claudio Ranieri trying to keep them under control during the week. They must be straining to get out and play. The pressure is now on the manager because he's got to keep this group calm. The trouble is that if they do get it wrong, they'll have to wait a long time to put it right — February 27 at home to Norwich.
"But if they beat Arsenal then the title is almost theirs to lose. They would be huge favourites but that would bring about pressure of its own. There are still enough games left for them to trip up."
Arsenal are likely to field the same line-up as they did against Bournemouth, barring the inclusion of Francis Coquelin, who is likely to be back in the squad after starting from the bench last weekend, as Wenger tries to ease him back into the squad. Meanwhile, Santi Cazorla and Jack Wilshere are back running on the pitch and should be back to full training in the next few weeks.