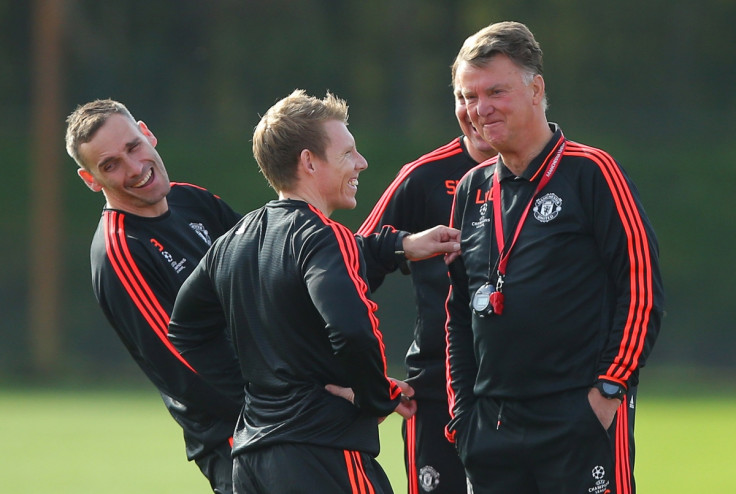 Louis van Gaal has revealed that he will not resort to penny pinching like Arsene Wenger in the transfer market and that he has to spend money as the players he has at his disposal are not always able to deliver as expected by him. The Dutchman revealed that he has resorted to this strategy everywhere and that is something he is not willing to change.
His philosophy is in stark contrast to the Arsenal manager who has not spent a penny on an outfield player this summer which has bought him a lot of criticism from fans and the media alike. His failure to strengthen his squad has been reflected on the results, with the Gunners currently not in the top four and are on the verge of crashing out of the group stage of the Champions League, following losses to Olympiacos and Dinamo Zagreb.
On the other hand, Van Gaal has invested heavily on the likes of Morgan Schneiderlin, Bastian Schweinsteiger, Matteo Darmian, Memphis Depay and Anthony Martial, which saw them go to the top of the league following their win over Sunderland. The Red Devils face Arsenal in the Premier League on Sunday, 4 October where a win will take them back above Manchester City who trounced Newcastle 6-1 on Saturday.
"You know my philosophy about buying players every year. I change things around – always. Every year. That's because you always have players who don't bring what you expected from them, so you need to make some changes every ­season. I have done that everywhere," Van Gaal said, as quoted by the Mirror.
However, he was very appreciative of how the Gunners conduct themselves on the pitch and believes that Wenger has the players to replicate how United played against Wolfsburg to notch up a 2-1 victory against the Bundesliga runners-up.
"I'm an admirer of the way Arsenal play. Yes, very much. They have a lot of players who can play the way we played in the first half against Wolfsburg," he added and said, "That's why I think Arsenal are one of the best teams – maybe the best team – in the league. Nevertheless, until now, they haven't won so much. I don't know why that is. You'll have to ask Arsene Wenger. Not me."