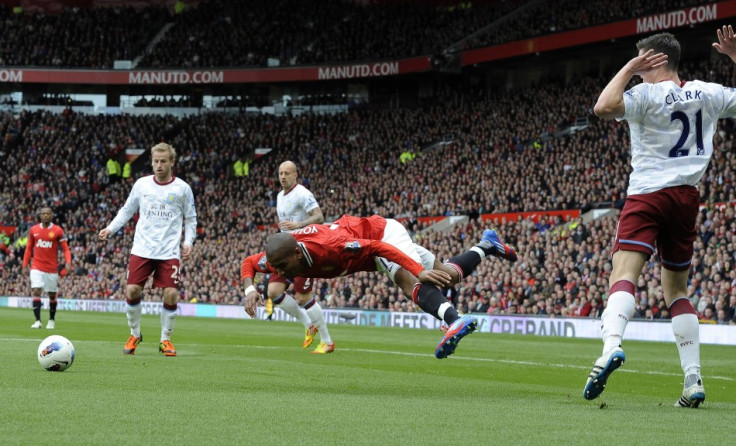 Arsenal boss Arsene Wenger feels that foreign players are at fault for introducing the diving culture into the Premier League. The Frenchman has also called on the FA to hand automatic three-match bans for obvious cases of diving so that players will hesitate to repeat the act in the future.
Manchester United winger Ashley Young sparked off controversy after his theatrical fall in the penalty box against Aston Villa on Sunday; an act that even United manager Sir Alex Ferguson described a "dramatic fall". The incidental also led to Newcastle defender Ryan Taylor calling Young the "biggest cheat in the league" on Twitter.
"Yes, foreign players brought this into the English game. But I must say the English players learn quickly," the Sun quoted the Arsenal manger as saying, "The foreign players have brought good and bad things. In England you respected two things - that you got well kicked but, on the other side, that they did not go down for nothing."
"Another thing I admired here in England is that you never surrounded the referees to give a yellow card to somebody else, you let the referee make a decision. But that has gone as well. Not everywhere, but there is a trend now to surround the referee and give a yellow card - and that never happened when I arrived," the manager said.
Wenger stated his preference for an automatic three-game ban for divers but he cautioned that the punishment should only be utilised for clear-cut examples.
"If an obvious dive is punished by a three-match ban, the players would not do it anymore. It has to be obvious," he said.
On Sunday, in the FA Cup semi-final between Tottenham and Chelsea, the Blues were lucky to be awarded a "ghost" goal in the second half as the ball had clearly not crossed the line.
Wenger has now called for referees to be given the option of examining TV replays in such instances and said the match official's initial decision should be overruled if reviews show it to be wrong.
"The challenge comes from the referee in football. In tennis you have it from the players. You want to have, at the demand of the referee, TV replays available for any controversial situation. In some games we would have no demand at all on the referee, in other games three or four. We have that famous thing that the judgment of the referee is final. But I don't agree," the Arsenal boss added.
Wenger's team will host Wigan Athletic on Monday as the Gunners look to go eight points clear of local rivals Tottenham and cement their third place, which will give them automatic qualification to the Champions League next season.