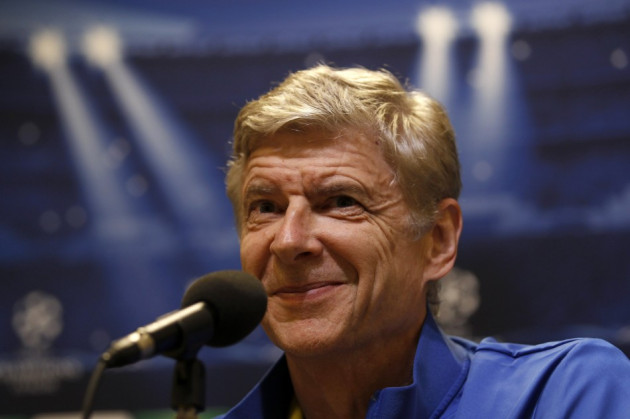 Arsenal manager Arsene Wenger has hailed his players for showing "huge solidarity" after the Gunners registered a 1-0 win over Borussia Dortmund in the Champions League group stage fixture at Signal Iduna Park.
The north London club's man of the moment Aaron Ramsey's second half goal after an hour mark was the difference between the two sides. The result has Arsenal sit on top of Group F, level on points with Napoli as goal difference separates the two sides.
The Frenchman admitted the English club were struggling during the second half. However, Wenger was delighted with Arsenal's overall performance away from home.
"We had a united, focused performance, especially defensively. I must say Dortmund put us under huge pressing. We had a lot of possession but it was a bit sterile possession in the first half because we could not create chances," Wenger told Arsenal's official website.
"It was a question of being focused, intelligent and not to make the first mistake, to wait for the moment where we could create openings in their defence. We did that. We had a difficult period at start of second half."
"Overall it's a huge win here. If you look at the results they have made at home in the Champions League, not many teams have achieved that. Overall the whole team has shown a huge solidarity to get through difficult moments of the game," he added.
Meanwhile, Wenger believes his side's victory over Dortmund has been better than their last season's win over Bayern Munich during the knockout stages of the competition. The Gunners won 2-0 in Germany after losing the first leg 3-1 at the Emirates to the treble winners.
Arsenal lost the two-legged tie on away goals as Bayern went on to win the Champions League after defeating Dortmund in the finals.
"Maybe because there was more stake tonight. People think that maybe [Bayern] Munich took it a bit easy, which I did not think at the time, but it was true they had beaten us 3-1 at home and maybe in their head had already qualified," Arsenal manager said.
"Tonight both teams had to win and I must say we had to win even more because we lost at home and knew we had to go to Dortmund and Naples. So we needed a win tonight - even a draw was not good enough."