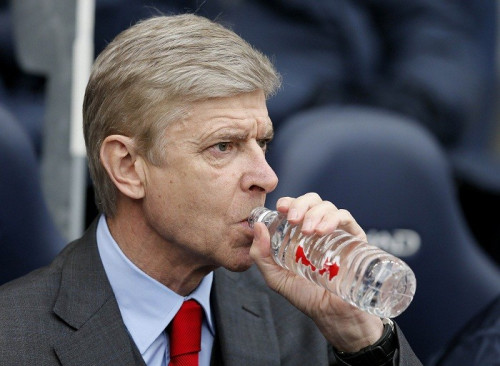 Arsenal manager Arsene Wenger has issued a warning to Premier League rivals and has insisted not to rule out the Gunners in the title race this season.
The north London club registered a 2-0 victory over Crystal Palace in the last league fixture. With the latest result, Arsenal regained their position on top of the table with 55 points from 24 games, leading second-placed Manchester City by two points and third-placed Chelsea by five.
However, both City and Chelsea have a game in hand when the two clubs face each other at the Etihad on Monday evening. A victory for the Blues away from home could see the Gunners maintain their two-point lead at the top of the table.
The Emirates club have gone without silverware for close to a decade and Wenger claims despite their recent trophy drought, Arsenal are still in the title race this season.
"In the last seven years you have engraved that in your brain. It's hard to get out now. I can understand that. We haven't done it for a while. It's all to do. But, after 24 games, we are there. It's now how we finish the season," Wenger explained.
"I must say we face quality competitors. We do not play against average teams. City have scored over 100 goals, so everyone thinks, can you beat this team? I say yes," he added.
Meanwhile, the Gunners' manager has heaped praise on Alex Oxlade-Chamberlain after the England international struck twice during Arsenal's 2-0 victory over Palace at the Emirates on Sunday.
Wenger was without the services of his star midfielder Aaron Ramsey as the Wales international has been sidelined with injury. His absence saw the Frenchman field Chamberlain in central midfield rather than his usual position out on the wings.
The 64-year-old manager hinted that Chamberlain could have a future in central midfield after his display against Palace in their latest league victory.
"I always believed that he could play wide and central, he has proven me right today by scoring the goals. But also the overall quality of his performance. It took him a while to get back because he was injured against Villa," Wenger concluded.