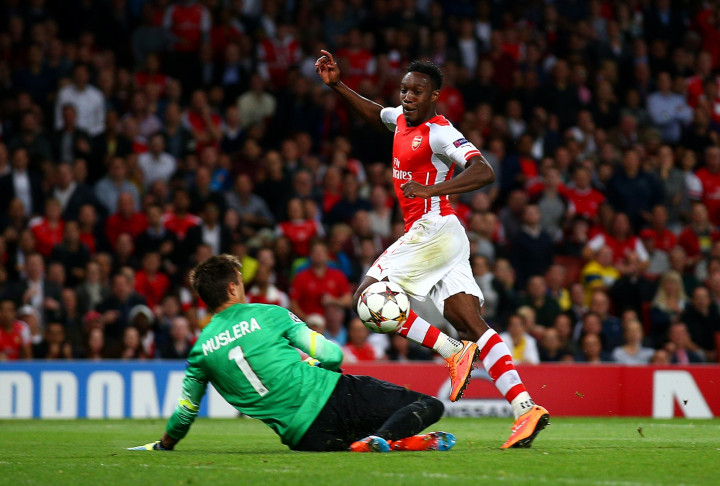 Manchester United legend Gary Neville believes Danny Welbeck can score a "bagful of goals" for Arsenal if Arsene Wenger makes him the new Thierry Henry.
The England international left United and completed his switch to the north London club on the last day of the summer transfer window.
Since his move to the Emirates, Welbeck has been the first choice striker and he scored his first hat-trick during Arsenal's 4-1 win over Galatasaray.
Henry was one of the greatest players for Arsenal and the Premier League. Wenger converted the Frenchman from a left-winger to a goal scoring forward.
Neville has backed the Gunners boss to do the same with Welbeck, but the former United defender admits it is too early to compare him with Henry.
"They were Thierry Henry goals, but I'm not going to compare him to Thierry Henry because he was one of the best players in the world and one of the best players we ever had in the Premier League," Neville told Sky Sports.
"But remember what Arsene Wenger did when Thierry Henry came to Arsenal. I played against him as a 17-year-old at Monaco and he was very raw as a left-winger. His control was poor and he wasn't a goalscorer in those early years."
"When he went to Arsenal it just took off for him and if Arsene Wenger can work with Danny Welbeck in the same way as he did with Thierry Henry he will get an absolute bagful of goals if he is consistently playing," he added.
Neville believes Welbeck was never able to show his ability for United because he was not getting regular playing time in his preferred position. The England coach has now backed the England striker to shine for Arsenal.
"It's about consistency for Danny in a number of areas. He is playing as a centre-forward regularly. He was in and out of Man United's team and was also in and out of playing as centre-forward because he was on the left or right wing," the Old Trafford favourite said.
"The biggest thing is that his centre-forward play outside the box is sensational - his work-rate, and his touch – but it's about his consistency of finishing. I think that will come from confidence and belief," Neville concluded.