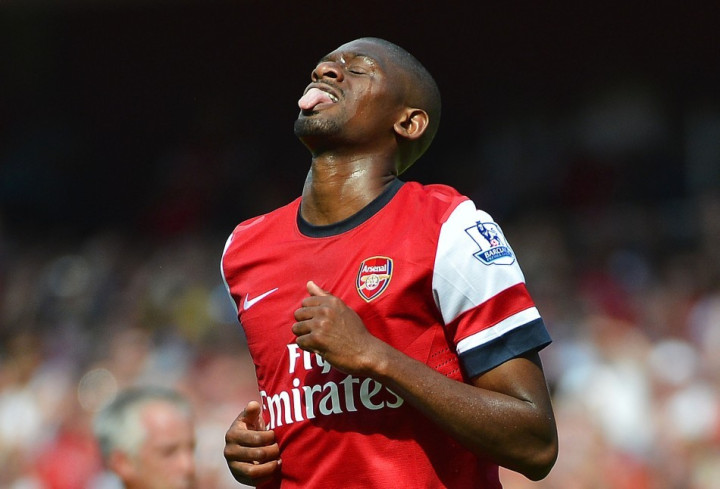 Abou Diaby has revealed he has spoken to manager Arsene Wenger about the possibility of playing in the holding position this season – in order to address Mikel Arteta's recent injury and the shortage of midfielders in his squad.
After the North London side failed to secure a defensive midfielder this summer, the French boss recently claimed he wants the 28-year-old midfielder to act as a back-up for Arteta and Mathieu Flamini.
"I try to transform it [Diaby's position]. I tried to develop him in a deeper role, I think he can do it. He can be very interesting because he has all the attributes to do it. After, he must love it as well because he's more of an offensive-minded player," Wenger said.
Diaby has now hailed Wenger's proposal, claiming he is likely to become more defensive-minded and adapt to the boss's new demands.
"[Wenger and I] have spoken about it and it could be an option. The boss told me he could see me playing in that position and that he thinks I have the ability to do it", Diaby said to Arsenal's official website.
"I've never played there before, so it's something new for me but I think it could be an option for the team and for myself to add something to my game."
Diaby ruptured the cruciate ligaments in his left knee during a training session in March 2013. However, after a more than one year recovery he is now ready to help Wenger to replace Arteta, who was injured during the North London derby on Sunday.
"I have an attacking mentality so to stay back and create the link between the defence and attack is something new. I would like to get used to it, to learn how to be effective in that role if I play there, and then we will see.
"The way I see the game will be different, as will my position. I need to learn how to do that effectively."
Diaby is yet to make a Premier League appearance this season but Wenger already handed him an opportunity during the Capital One Cup defeat against Southampton – while he has also played a couple of games with the Under 21 side to adapt to the new role.
"First of all, when you play in this position you have to be effective defensively. I would need to track back, break up play and also avoid the opponent from playing through the lines.
"For me, those are the first things. At the same time, you are always involved, you take a lot of touches and you need to make sure that you play the right passes to find strikers and midfielders in good positions. You need to be able to contribute to both sides of the game."