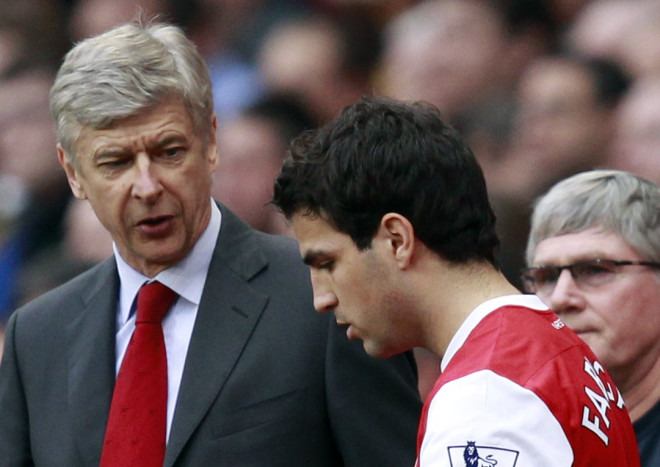 Arsenal manager Arsene Wenger admits he felt obligated to allow Cesc Fabregas to re-join Barcelona in the summer of 2011 given the midfielder's links with the Catalan club.
Fabregas had initially joined the Gunners from Barca aged 16 and became then the club's youngster ever player before going on to captain the north London side during the twilight of his spell.
But having been nurtured as a youngster at Barcelona's La Masia academy, Fabregas was always destined to return to the club and he eventually left Arsenal for a reported £35m.
And Wenger told Eurosport: "Fabregas said he was very sad when he left Arsenal, and he is not the only one! I fought with him to keep him but, deep down, I obviously knew.
"He was raised in Barcelona; his grandfather worked for Barca; he went to all the FCB football classes; they had the best team in the world. I surrendered to his will of playing for them, and I think it was completely logical.
"We had a respectful relationship. And, for me, admiration too. He left Barcelona at 16 and came here with his mother. He said, 'Barcelona won't trust me, and I'm coming here because I know that you will trust me.'
"The personality he showed back then, sometimes I wonder where he found it. This strength to leave such a club to come and play for us. I have a huge respect for that."
Despite only winning the FA Cup during eight years at Arsenal, Fabregas is viewed as among the club's best players of the modern-era and is still fondly regarded by fans on the red half of north London.
Fabregas would therefore be welcomed with open arms should he ever return to Arsenal and the Spanish international spoke last year over the possibility of coming back to the Premier League.
"Arsenal is in my heart and always will be. I don't know if I'll have the opportunity to go back and play there one day, or maybe after football," he told The Guardian.