Arsenal boss Arsene Wenger suggests he will not focus on trying to improve Granit Xhaka's ability to tackle and will instead order the midfielder to cut it out of his game altogether.
Xhaka, 24, is facing a four-match ban after he was shown his second straight red card of the season in the 2-1 win over Burnley on Sunday (22 January).
The Switzerland international was given his marching orders after lunging in on Clarets' midfielder Steven Defour, disappointing his manager who later admonished: "He has to control his game, and not punish the team with his lack of control and his tackling."
Xhaka has been shown nine red cards in just under three years and while Wenger feels his latest was a slightly harsh decision, the Gunners boss has real concerns over his ability to tackle an opponent.
"[It is] more about his technique, I think he's not naturally a great tackler and in his decision-making I think he is quite intelligent on the pitch," Wenger told a press conference ahead of the FA Cup fourth-round clash with Southampton. "But it's more the way he tackles that is not really convincing. He doesn't master well the technique of tackling."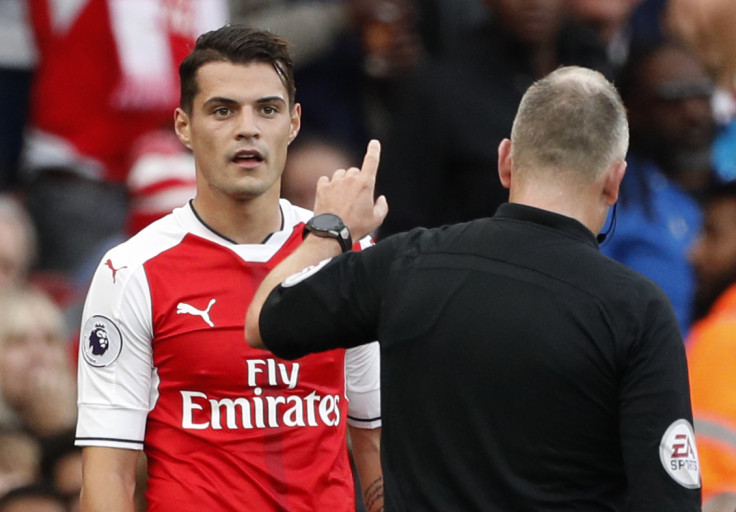 When asked if he would consider bringing in a coach who can help Xhaka master the art, Wenger replied: "I would rather encourage him not to tackle, to stay on his feet and that's the best way to deal with it. Tackling is a technique that you learn at a young age. You can improve it but when you are face to face with somebody, it's better you stay up."
Xhaka has had a week to forget following claims he racially abused British Airways check-in staff at Heathrow, allegedly calling one worker a "f*****g white b*****d".
Wenger told reporters his midfielder has since denied the allegations.
"I've spoken to him about it and he denies the incident completely," Wenger said. "He denied what he is alleged to have said."