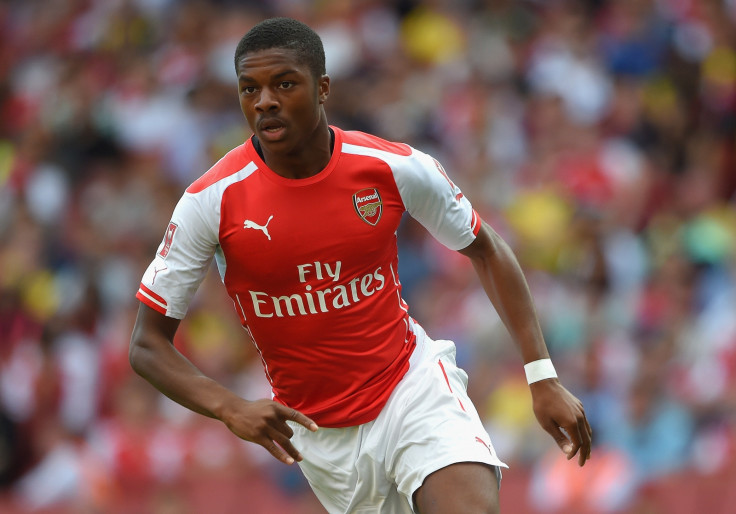 Arsene Wenger has said that Arsenal academy stars Chuba Akpom and Alex Iwobi may be rewarded with a first team role in the Emirates Cup after the duo impressed during the Barclays Asia Trophy.
Akpom, 19, seized his chance during the 4-0 victory over a Singapore Select XI, proving his clinical skills up front by scoring a hat trick.
The forward then expressed hopes of establishing himself into Wenger's squad ahead of the new campaign, having already made seven appearances for the Gunners last season before moving on loan to Nottingham Forest.
"Scoring goals is the best feeling, but more importantly the team won. The manager told me to work hard and go and express myself. I have been trying for a few years now, working hard and trying to show the boss what I am made of. Hopefully I can keep my place in the team," the academy striker said.
Wenger has now claimed the forward will have an opportunity to prove his worth alongside other academy stars during the Emirates Cup this weekend.
"The first name that comes to mind [to play] is certainly Chuba Akpom because he has done well on tour," the manager said to the official Arsenal website.
The manager also lavished praise on Iwoby, suggesting the versatile winger could have more playing time this weekend after he took his opportunity in a starting role in the first game of the pre-season.
"Maybe two or three more will feature, certainly Alex Iwobi will be very close to making the team for these games as well," Wenger added.
"I like [Iwobi's] team attitude, his movement. We have a game based on movement and speed, and he integrates that very well. He has good power and is usually efficient – he scores a lot of goals – and he had two good chances against Singapore. He missed them but usually he is capable of scoring."