Arsene Wenger reacts to Jose Mourinho 'I will break his face' comment
Arsenal manager refrains from criticising Mourinho after comments contained in new book.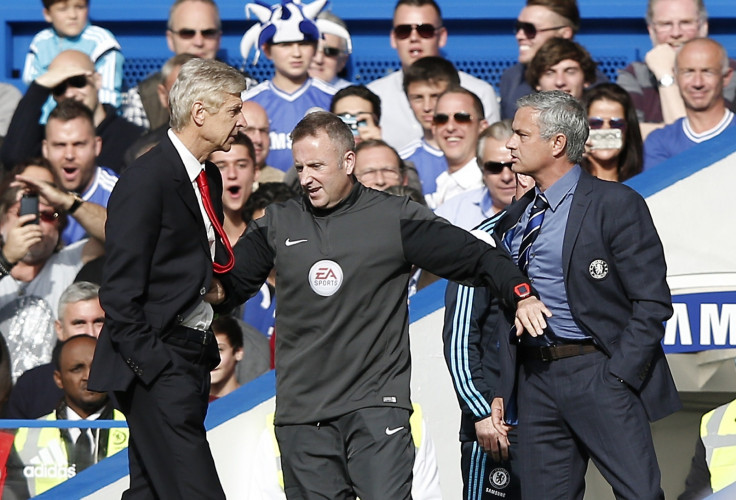 Arsene Wenger, the Arsenal manager, has refused the opportunity to send a barb the way of Manchester United boss Jose Mourinho following stunning allegations the Portuguese wanted to attack his rival while manager of Chelsea. Comments included in a new book about the 53-year-old include a threat directed at Wenger that he would "break his face" given the opportunity.
Wenger and Mourinho have regularly engaged in verbal warfare during their managerial career, with the former Blues boss claiming the Gunners man was a "specialist in failure". The criticism was a reaction to previous remarks from Wenger in which he claimed Mourinho had a "fear" of failure.
Mourinho remained angered by the Arsenal manager in the days that followed the character assassination, which also included comments regarding Juan Mata's move from Chelsea to United in January 2014. Confiding in journalist Rob Beasley, author of the book, Mourinho, according to a serialisation by The Daily Mail, said: "When Mr Wenger criticises CFC and Man United over the deal with Mata...I will find him one day outside a football pitch and I will break his face."
Though Mourinho now occupies the dugout at Old Trafford, the timing of his threat towards Wenger comes on the eve of his former club Chelsea's trip to The Emirates Stadium to take on Arsenal. However, the Frenchman has refused to participate in a fresh war or words with Mourinho and says he will not be reading the book which includes the warning.
"Look I haven't read the book and I certainly will not read it so I can't comment on that," he told reporters ahead of the visit of Chelsea. "I talk about football and that is all I do. I am not in a destructive mode, I'm more constructive and I can't comment on that because I'm focused on tomorrow's game and the way we want to play football.
"I have no personal problem with anybody, I respect everybody in our game and I don't feel I comment a lot on other teams. Sometimes maybe I say what I think but that's part of the way I am. What is amazing is that this has nothing to do with our game tomorrow and I personally am just focused on just doing well in my job and respecting everybody else."
Mourinho leads the head-to-head
Though both managers have been guilty of crossing the line in an attempt to unsettle their opposite number, Mourinho is the dominant figure when it comes to matches against one another. In 13 meetings, Wenger has never tasted victory over Mourinho but the Arsenal coach is adamant the absence of his great rival from this weekend's London derby does not dilute the enormity of the contest.
"Not really," he added. "Honestly for me it was always just a big game, an important game and the personal rivalry that you suggest existed stronger before or not was never in my head. What is important is it is a big game. Chelsea in the last 10 years have had very strong teams and you realise that today as well.
"Before that period we were always beating them, afterwards they were always the stronger team for a few years. No it looks like it is a new era where it is a bit more balanced again. We feel we are progressing at the moment and we have a good opportunity."
© Copyright IBTimes 2023. All rights reserved.