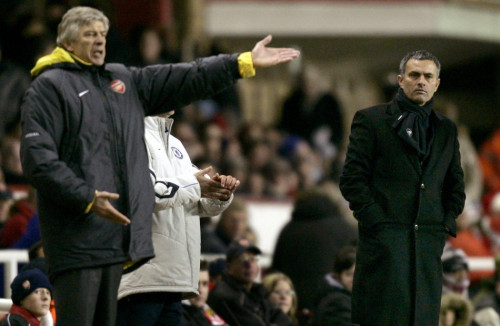 Arsene Wenger has slammed Jose Mourinho following his snide comments in which he termed the Frenchman as a "specialist in failure".
The Portuguese manager was incensed by Wenger's comments following their 0-0 draw against Manchester United when he said that most other managers are not prepared to concede that they are title contenders, owing to a fear of failure.
The former Real Madrid thereby went on to slam Wenger for his comments and insisted that he wouldn't extend his contract if he had gone on an eight- year run without winning a trophy.
"If he is right and I have a fear of failure it is because I don't fail many times. So maybe he is right? The reality is he's a specialist because eight years without a piece of silverware, that is failure. If I did that in Chelsea I would leave London and not come back," Mourinho said.
However, Wenger seized the chance to get one over his direct rival following his team's 2-1 win over Liverpool at the Emirates. In contrast, Mourinho's side succumbed to a 2-0 loss at the hands of Manchester City at the Etihad, thus crashing out the competition.
"I am embarrassed for him, honestly. First of all I would say that I didn't speak about him at all in my press conference, and I have no more to say... I am more disappointed for Chelsea than for me. I am not interested in the subject at all, and that is really genuine," Wenger told www.arsenal.com.
"If you are interested, and you have nothing better to do in your life, you are free to do it. But honestly, I cannot force my interest in things that are not interesting for me. I love football and I'm sorry to disappoint you, but what interests me is what happens on the pitch," he added.
The Gunners will face Bayern Munich in the round of 16 in the Champions League on Wednesday night as they look to avoid a third consecutive exit from the first knockout stage.