Arsene Wenger has revealed that he knew that Arsenal will see a completely rejuvenated Theo Walcott following his Euro 2016 snub as he looks to book a berth for himself for the 2018 World Cup in Russia. The forward made the team for the 2006 World Cup but has failed to make it to any of the following tournaments, something he is desperate to remedy with a consistent performance this season.
Walcott scored his third goal of the season against Chelsea but he caught the eye for his work off the ball, something Wenger insists has increased by leaps and bounds this season. His industry over the past two months had earned him a call-up for the England squad under new manager Sam Allardyce and Walcott will be desperate to further impress the former Sunderland manager and make himself an important member of the line-up.
"I said many times at the start of the season that we would see a different Theo Walcott. I could see he made a decision and sticks to it," Wenger said, as quoted by the Telegraph.
"I spoke to him about the disappointment of not going with England. He is a special case. He went at 16 to the World Cup. We are now at 2016 and he hasn't been to another World Cup. He has matured, when a player survives this type of disappointment from what was promised for him at 16, the way he dealt with the situation, I always felt there was something special in this guy.
"I think he used to be 90% forward and 10% defending. Today he is 50-50. He does the job both ways and he does it both ways with commitment. And I always felt there is character and intelligence in this boy. He is a guy with a good assessment of his performances and qualities."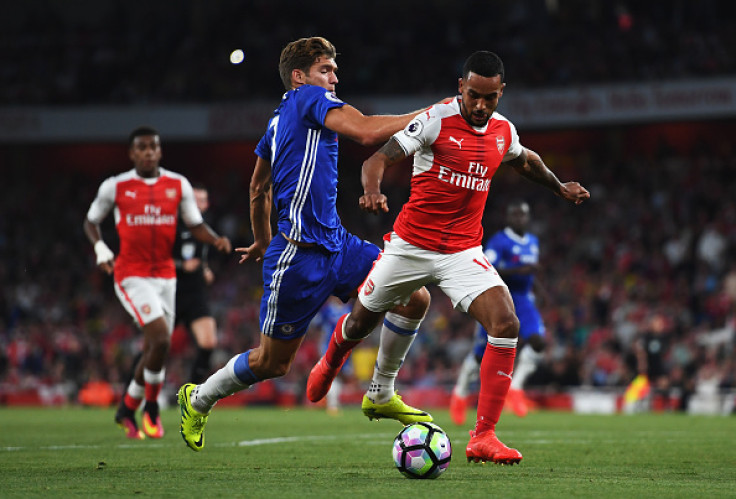 The Gunners blitzed Chelsea 3-0 at the Emirates, securing their first win in the league against the Blues in over five years after their 5-3 win at Stamford Bridge in 2011. Walcott scored in that fixture with Robin van Persie also scoring a hattrick for the Gunners.