Bournemouth manager Eddie Howe says Jack Wilshere must earn the right to play 90 minutes
Wilshere played 76 minutes as the Cherries beat Everton at the weekend.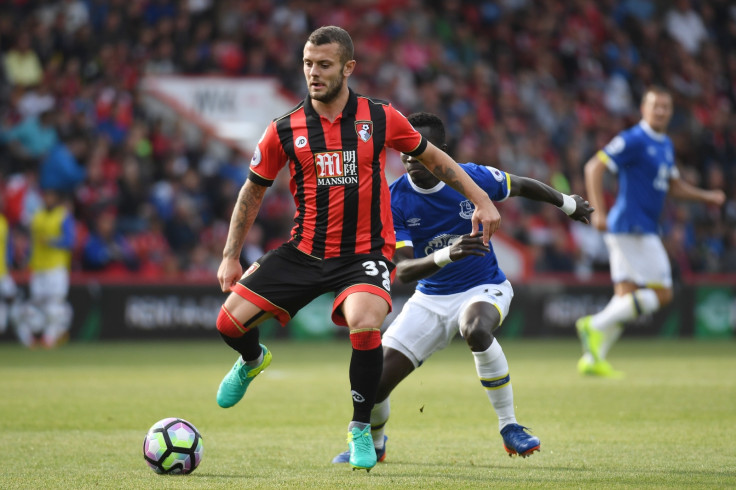 Bournemouth manager Eddie Howe has revealed on-loan Arsenal midfielder Jack Wilshere must earn the right to end his two-year wait for a full 90 minutes in the Premier League. The injury-prone star joined the Cherries on transfer deadline day and Howe has admitted Wilshere is close to regaining full fitness.
Wilshere, 24, was an influential figure in Bournemouth's 1-0 Premier League win over Everton on Saturday (24 September). But Howe thinks he still needs to manage Wilshere's fitness as he continues his return from injury.
"He'll play 90 minutes the day that he deserves 90 minutes or he's able to play 90 minutes,'' said Howe of the on-loan Arsenal man, according to ESPN. "I just want to manage his workload so that he stays fit. I think that's really really important for him and I think he recognises that the most important thing isn't Jack, it's the team. And I have to make the decision that's best for the team at all times.''
Wilshere played 76 minutes of Bournemouth's weekend win and Howe admitted he does not know when he will be fit to play an entire match after joining the club from Arsenal. "The way he played today he won't be far away," Howe explained. "It's not a big issue for me because obviously if he plays like he did today he's going to have a massive impact on our season.''
Wilshere has battled ankle and knee problems over the last two years, which has restricted his playing opportunities at Arsenal. But Howe thinks Bournemouth is the ideal club for the highly-rated midfielder to get his career back on track.
"I believe our environment can be good for him because the players work incredibly hard, they push themselves to improve and that's healthy for any footballer,'' Howe said. "That's why I think he decided to come here ultimately. It's a good grounding in the fact that he hasn't gone to a massive Premier League team.
"He's picked a very brave decision for me. He's gone to a smaller club, he's gone somewhere where there's not everything here, there's not everything done for him. It's slightly old fashioned in the way that it's like a step back in time for him compared with the facilities and resources of other Premier League clubs, and I think he deserves a huge amount of credit for that.''
© Copyright IBTimes 2023. All rights reserved.