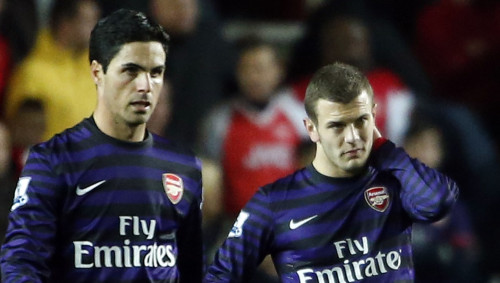 Mikel Arteta has stressed the importance of getting back together as a team after their harrowing 5-1 loss to Liverpool at Anfield on Saturday.
The Gunners lost their position at the top of the table and are currently trailing Chelsea by a point and are set to face Manchester United at the Emirates on Wednesday as they look for redemption.
This was a major setback for the north London club who were vying for the title and the loss has put a major question mark over their title credentials.
However, Arteta is convinced that the Gunners can shake the disappointment off and come back on top with 13 games left till the end of the season. This is the second time the Gunners have succumbed to a heavy defeat with the first coming against Manchester City at the Etihad in December.
The Gunners came back from that setback to instigate an eight match unbeaten run in all competitions and with a tough set of fixtures coming up, Arteta will be hoping that they can come out with maximum points and make themselves favourites for the league title.
"[It will happen] by helping each other and not blaming each other. Normally, after a game like that, you tend to blame each other for mistakes in the game. I don't think that is the right thing to do. We need to be realistic and improve on what we have done. We have been here before so hopefully we will be able to do it again," Arteta told www.arsenal.com.
"We have had two big crises this season - Manchester City away and this one. But it is done now. We need to react, improve and face the games ahead in a different manner. We made it very difficult for ourselves by going 2-0 down so early. They were the better team and we're very disappointed.
"But we have to bounce back. We've done it in the past and we're going to do it again. It's a very hard one to take because we wanted to do well. But, when you play at Anfield, the first 10 to 15 minutes are so important and we never managed to get going," he said.