North Korea has carried out its largest ever nuclear test, with Pyongyang saying it conducted a "nuclear warhead explosion" in response to "US hostility", according to Associated Press.
State television claimed Pyongyang was now capable of mounting nuclear warheads on ballistic rockets, that no leakage of nuclear material had occurred, and that there was no environmental impact. Reactions criticising the test quickly followed.
South Korean President Park Geun-hye said it was an act that showed the "maniacal recklessness" of leader Kim Jong-un. Japan's Prime Minister Shinzo Abe said the detonation could not be tolerated and China's environment ministry has begun emergency monitoring for radiation along its northeastern border with North Korea.
Earlier, South Korea's Yonhap news agency had said an "artificial quake" on Friday 9 September measuring magnitude-5.3 was caused by its neighbour's fifth nuclear test. The US Geological Survey reported the seismic event near the he Pyunggye-ri nuclear test site in the northeastern part of the country.
The USGS said the event at 9.30am. local time (1.30am BST) had zero depth. Its epicentre was 11 miles (18 km) east-northeast of Sungjibaegam.
Friday is also North Korea's National Day, which Pyongyang often uses as an opportunity for a show of military strength.
Satellite imagery and intelligence has indicated increased activity at the Pyunggye-ri site, where a fourth nuclear test in January was carried out.
South Korea's military said the test had an estimated explosive power equivalent to 10,000 tonnes of TNT. This is double the explosive power of its fourth nuclear device in January – a test which generated a 5.1-magnitude seismic event.
Lately, North Korea has carried out a number of ballistic missile launches in violation of UN Security Council resolutions.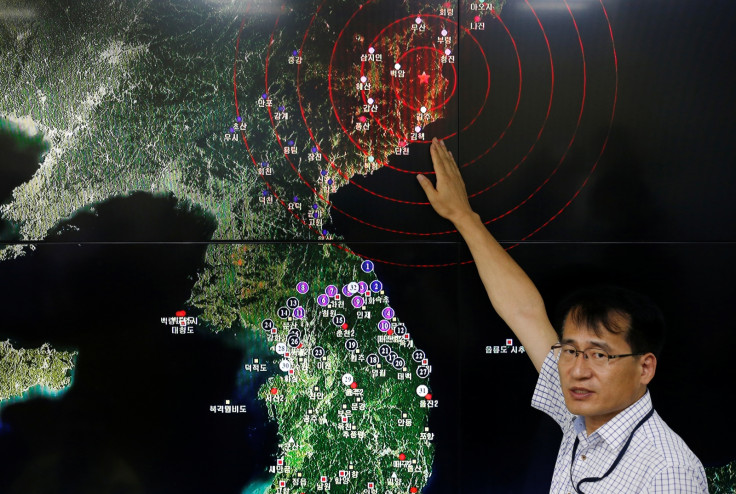 Jeffrey Lewis of the California-based Middlebury Institute of International Studies told Reuters: "That's the largest DPRK test to date, 20-30kt, at least. Not a happy day.
"Yield estimates are always kind of approximate. The point is that it is the biggest one to date unless they revise the yield downward," he said.