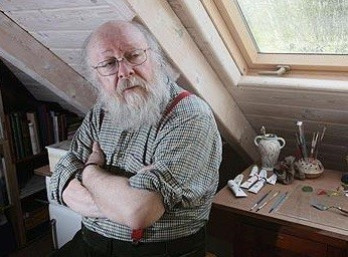 An Internationally renowned artist who said he had a "moral obligation" to capture images of children has been found guilty of child sex offences.
Graham Ovenden, 70, was found guilty of four charges of indecency with a child. The offences relate to four children between 1972 and 1985.
The painter and photographer was cleared of three other charges of indecent assault by Judge Graham Cottle at Truro Crown Court.
The incidents are said to have taken place at the 70-year-old's current and former homes in London and Cornwall.
Ovenden, of Barley Splatt, near Bodmin Moor in Cornwall, was not present in court for the verdict as he has been taken ill.
A former pupil under Sir Peter Blake, Ovenden told police he had a "major reputation" for having created "some of the best portraits of children in the last 200 years".
Ovenden denied the charges and having a sexual interest in children.
The artist argued during the trial that his work, which has featured pictures of children in various states of undress, were not indecent. He described one of his accusers as "a beautiful child - not only as she was, as you see her in front of a camera, but also as a person.
"It think it is important that someone pays homage to that and places her in a state of grace. I think holding those things, by photography or painting, is a moral obligation."
Alluding to English poet William Blake, Overdan described the "state of grace" as "a thing of wondrous beauty".
"Imagine Adam and Eve before the serpent - there's no shame", he continued.
"We're not born with trousers, skirts, shirts and shoes. One of the great qualities of art is to go back to the great point, the Garden of Eden.
"The idea that a child naked is something to be frowned upon - is absolutely abhorrent."
He also said there is a "witch-hunt" against artists who use pictures of children as part of their work and accuse police of "falsifying" evidence against him obtained from his home computer.