Trump Tower's gift shop displayed KKK hoods and rubber pee-proof sheets on Monday 28 and Tuesday 29 August. This is the latest instalment of pranks linking Donald Trump to Ku Klux Klan imagery.
Two artists reportedly populated the stands of the Trump Tower's gift shop with actual anti-Trump items. This included mock-posters, clothing and bedding items.
Other items were posters of Vladimir Putin as "the 45th President of the United-States" and of Ivanka Trump as "the first lady."
The Gothamist, a New York news outlet who first reported the prank, took several pictures of the separate items on Monday afternoon. When they returned the next day, the stands hadn't been cleared.
Most notably, the artists put "Trump white hoods" on display, marketed to white supremacists, that read: "For fine people. Show your pride!"
Each item was presented as "Trump-approved," accompanied with a fake quote from the US president. A set of rubber bedsheets read: "The pee-tape is totally real. - Donald J. Trump."
The stands also showcased a TV remote control, with the mock-quote: "I use this remote 10h a day."
One of the artists, who wishes to remain anonymous, told the Gothamist: "We thought the tourists coming in to buy some stuff, especially people from other countries, should get the whole story of who the president is, because the items in the Trump store don't accurately reflect the person."
All items linked to a website: Trump White Wear. The website is live and compiles the different pieces "as seem at Trump Tower's gift shop" where users can actually buy every item. The Tower's security were alerted when reporters tried to buy some of the items, and removed them from the shop.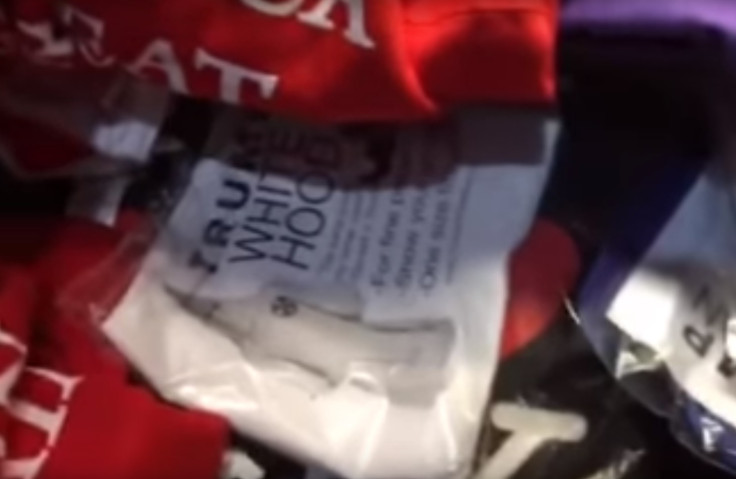 On 12 August, following the events of Charlottesville, Trump condemned violence on "many sides." He failed to immediately call out the KKK and other white supremacist organisations. After an outcry from both Conservatives, Democrats and other world leaders, he finally gave a press conference where he denounced the evils of racism.
However, Trump made a U-turn during another press conference in the Trump Tower lobby the next day. There, he claimed that not all protesters present in Virginia were Nazis, that some "fine people" also attended the event. He used the term "alt-left" to criticise the people that showed up in Charlottesville to counter-protest.
On 21 August, Donald Trump's Hollywood Walk of Fame star was adorned with a white KKK hood by a protester, which further presented him as a KKK sympathiser.