Top Rank promoter Bob Arum praised Vasyl Lomachenko as "unbeatable" after the WBO junior lightweight champion completely outclassed Guillermo Rigondeaux.
Lomachenko successfully defended his title against Guillermo Rigondeaux on Saturday (9 December) in one of the most highly-anticipated boxing fights in recent history.
In what was the first-ever boxing contest between two two-time Olympic gold winning boxers, the bout was somewhat underwhelming in a way as the Ukrainian overwhelmed his Cuban adversary.
Having landed a total of just 15 punches throughout the fight, Rigondeaux, who moved up eight pounds and two divisions, cited an injury to his left hand and quit on his stool after the sixth round.
It meant that Lomachenko, who on the other hand landed 55 punches, inflicted Rigondeaux's first-ever loss (17-1-1 record) as he took his own professional record to 10-1 and staked a claim for being boxing's pound-for-pound best.
"I think he's the most unbeatable fighter I've ever had," Arum said, as quoted on ESPN. "The only one that was different was [Muhammad] Ali before the three-and-a-half years [he was idle]."
Rigondeaux's promoter Dino Duva also reserved praise for "Hi Tech" while explaining what happened to his fighter: "He [Rigondeaux] said [he] couldn't throw his left hand at all. I gave Rigo the first round, but after that it was all Lomachenko," he explained.
"It just amazes me what this guy does to his opponents. He frustrates them with his athletic skills. He frustrates them so bad they don't even know what to do. He didn't even know what to do, Rigo."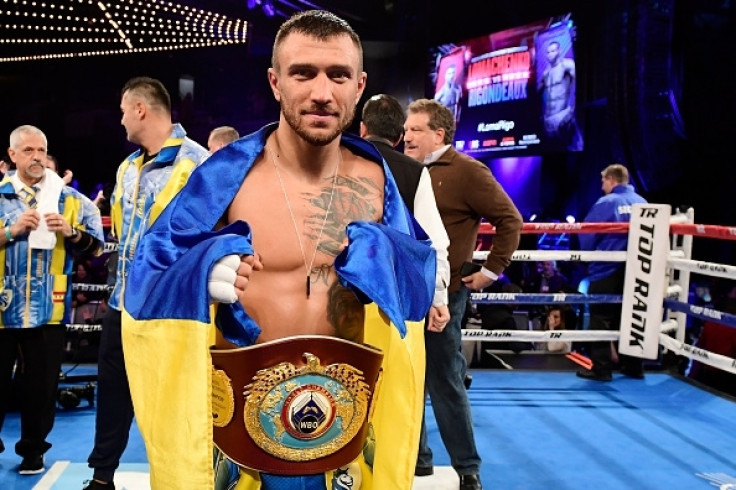 Having passed a major test with flying colours, the attention now turns to who is next for Lomachenko. Moving up to 135 pounds and facing the likes of Jorge Linares (43-3 record) and Mikey Garcia (37-0 record) seems ideal, but Arum believes they will be light work for the 29-year-old.
"He'll take anybody. He'll go to 135 pounds, and he'll make a joke of [Jorge] Linares. He'll make a joke of [Mikey] Garcia," Arum added.
"They're really good fighters, but this guy is super special. You've never seen anything like this. Maybe he'll go to 140, I don't know. He's going to do this to everybody."