England face Australia in the fifth and final Ashes Test. The hosts have won the first of two Ashes series scheduled for this year after a devastating display of cricket over the first four games. Alastair Cook's men lead 3-0 and will be hoping to create a new record at the Oval - England have never won an Ashes series 4-0 and Cook believes now is the time.
"We have a lot of record-breakers in this team and the chance to add another little notch is a great motivation. To win the Ashes 4-0 has never been done before, so that is our motivation as a side. With 4-0 you've achieved something very special," Cook explained.
Incidentally, this is the first time in nearly three decades Australia have been dealt so complete a series defeat; the last time was in 1978/79, when they lost 5-1.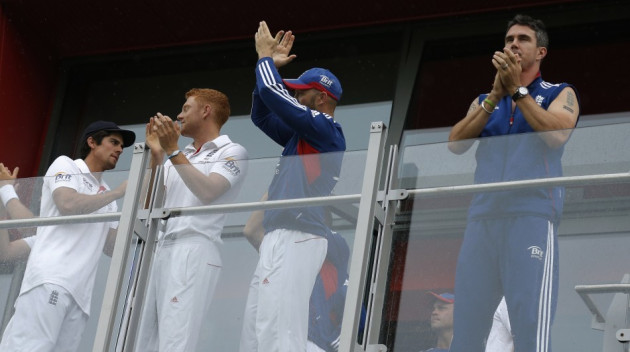 Where to Watch Fifth Test Live
Play starts at 11am BST, with live television coverage on Sky Sports Ashes and Sky Sports Ashes HD. Radio commentary is on BBC Radio 5 live.
Overview
England are unbeaten in 12 games. By contrast, Australia have lost seven of their last eight games. The one Test they did not lose was a draw. The visitors' miserable 2013 began in the subcontinent, where India hammered them 4-0. And despite what Michael Clarke may say and think, privately he must know there is an excellent chance Australia will leave England without a win this series.
They should have won the fourth Test. Indeed, all signs pointed to a morale-boosting Aussie win, particularly after England were bundled out for 238 in their first innings. However, Ian Bell once again saved the day (113) and forced Australia to bat to 299 to record that win. And Stuart Broad ensured that would not happen, picking 6/50 and finishing with 11 wickets overall.
And more of the same likely awaits Australia at The Oval. Broad is eager to continue his form from the fourth match and spoke of a new and ruthless England, one eager to stamp their dominance on their traditional rivals.
"There's one thing for sure about this England team and that's we're tough. We've come through tricky times and stand up when we need to be counted, which is quite an un-English thing. We do have a win at all costs mentality. I think we're quite an unpleasant team to play against at the moment," Broad stressed.
Meanwhile, Clarke has refused talk he could stand down at the end of this series, particularly if England record that 4-0 win.
"I've thought long and hard about what has occurred in this series ... it is a tough challenge as a captain when you don't get the results you want. And it just inspires you to try and become better as a player and leader," the Aussie captain revealed.
Team Form
England
Last Five (most recent first)

: W D W W W
Australia
Last Five (most recent first):

L D L L L
Pitch
The Oval is known to help spinners. However, this time more assistance is expected for the faster bowlers. And the weather forecast suggests warm weather, with rain expected to disrupt play on a couple of occasions.
Team News
Chris Tremlett will replace the injured Tim Bresnan. No further changes are expected to the England side.
Line-Up: Alastair Cook, Joe Root, Jonathan Trott, Kevin Pietersen, Ian Bell, Jonny Bairstow, Matt Prior, Stuart Broad, Graeme Swann, Chris Tremlett, James Anderson
Australia have made two changes, with James Faulkner to make his Test debut and Mitchell Starc to make a return.
Line-Up: Chris Rogers, David Warner, Shane Watson, Michael Clarke, Steven Smith, Brad Haddin, James Faulkner, Peter Siddle, Mitchell Starc, Ryan Harris, Nathan Lyon