England centurion Ian Bell claims his side are in comfortable position after the end of first day's play during the second Ashes test at Lord's. The Three Lions were 271-4 in the final hour, before part time bowler Steven Smith picked three quick wickets as the hosts ended the day for 289-7.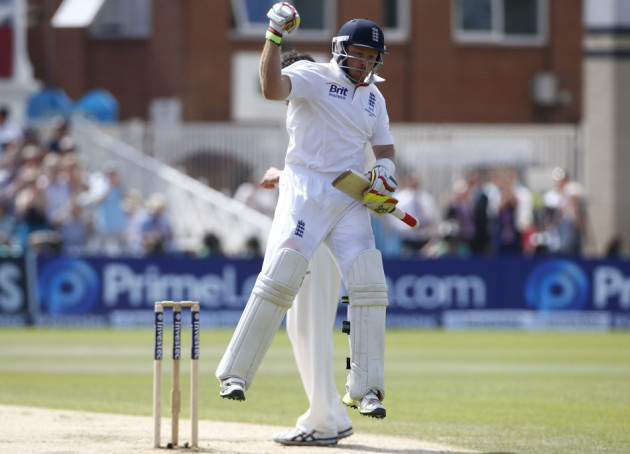 The right handed batsman came into bat when the hosts suffered a quick setback in the first session, losing three wickets for 28 runs. Bell was accompanied by Jonathan Trott as they went on to put a 99 runs partnership. However, the latter was bowled out for 58.
Jonny Bairstow joined Bell as the duo stood the ground to put a 144 runs partnership for the fifth wicket, before Bell was dismissed for 109. Despite the late collapse, the centurion is hopeful that the lower order batsmen can contribute to the scorecard and help England reach a first innings total close to 350.
"I guess we would have taken it early on at three down for 20-odd. Obviously it's disappointing to lose those wickets at the end but it's not a bad day for us. We'd take where we are tonight after being three down this morning," Bell told Sky Sports.
"It was a really good day of Test cricket, a fight all the way through. But with the guys we've got coming in, if they're there for an hour they will score at a decent rate and try to put as much pressure on Australia as possible. We'd like to win the first hour tomorrow morning and get up somewhere near 350," he added.
Meanwhile, Ryan Harris revealed Australian coach Darren Lehmann is disappointed after the pacer over stepped where he bowled England batsman Bairstow, while on 21. The middle order batsman went on to put a 144 runs stand with Bell before becoming Smith's second victim of the day for 67.
"Darren [coach] wasn't very happy. You just can't afford to (have to) take 11 wickets, or 12 wickets. It's as simple as that. Darren is quite strict on that with us in the nets ... once we're off our long runs, we're not allowed to go over. There's no excuse for it. The line is there for a reason," Harris explained.