Australian spinner Nathan Lyon expressed delight after a brilliant spell on the first day of the fourth Ashes Test. The visitors are in a commanding position as they continue to fight back after demoralising defeats in the first two matches.
At close of play on the first day, England were 238/9 with James Anderson and Tim Bresnan at the crease. Lyon finished with 4/42, taking the wickets of Jonathan Trott, Kevin Pietersen, Ian Bell and Jonny Bairstow.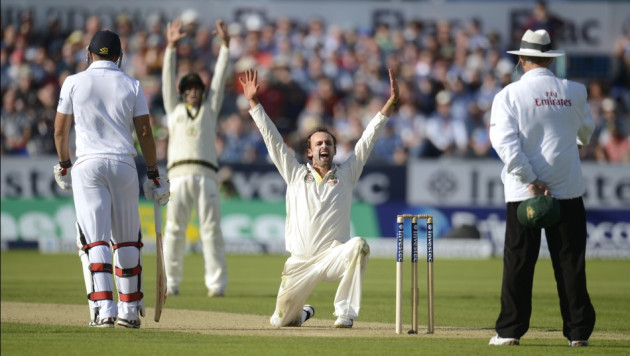 England captain Alastair Cook will be disappointed with the day's results, particularly since the hosts were exceedingly comfortably placed just before tea; they slumped from 149/2 to 155/5 and 199/8 when Michael Clarke took the new ball.
"I was pretty happy with the way I bowled personally and we have a big job for the next four days. I was pretty happy with the way they came out today and I was happy enough to build some pressure from one end and let our quicks rotate from the other end," Lyon told Sky Sports.
The 25-year-old right arm off-break specialist has only played 20-odd Tests in his career and did not feature in either of the first two matches of this series. He returned for the third Test in Manchester but failed to make an impression, finishing with 1/103.
"It was pretty important for us. We spoke about how well we went in Manchester. Unfortunately the weather was against us then but it was important to us to come out today and really continue with that same method and same momentum," he said.
"It was a disappointing finish to be honest. But that is something we can come back and make amends with the bowling group tomorrow then let our batters hopefully do a couple of good days," Lyon concluded.
Meanwhile, Trott is understandably disappointed after seeing his side lose seven wickets in quick succession.
"We're disappointed that we got ourselves into a good position then got ourselves into a bad one. In cricket, you get yourself out or it's good pressure from the opposition that makes you play a shot you shouldn't have. Generally the fault's in you as a batsman, and we could all say that today," Trott stressed.