Stuart Broad claims England have a chance of winning the fourth Investec Ashes Test, despite Australia finishing the second day's play at 222/5. The seamer picked four of five wickets to fall on the day but a strong fifth wicket partnership stabilised the innings and Australia will start the third day only 16 runs behind.
Broad is banking on England picking up quick wickets early on Sunday and feels that if the hosts break through the middle order they can control the Aussies' first innings lead.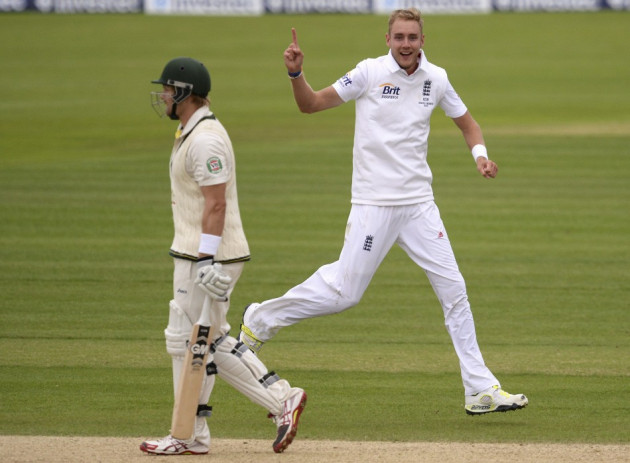 "This team has won from tricky positions and also saved games from tricky positions. The first hour will be very important. If we can get a couple of wickets with the new ball that would put us in a strong position," he explained.
"The new ball will naturally do something so we have to make sure it is in a good area. It's fair to say we will concede a lead but that shouldn't scare us as long as it isn't a big one," the 27-year-old added.
The Nottinghamshire seamer finished with 4/48, sending David Warner, Usman Khwaja and Michael Clarke back to the pavilion for a combined total of nine runs. However, a brilliant partnership between Chris Rogers (101) and Shane Watson (129 for the fifth wicket) meant the visitors regained control of the match. Broad returned to dismiss Watson (68), albeit a little fortunately, to leave the Test intriguingly poised.
Brad Haddin (12 not out) and Rogers, who scored a maiden Test century, saw out the day's play without further incident.
Finally, Broad also admitted disappointment that England allowed Rogers and Watson to settle, saying, "The wicket seamed around for us in the morning with the harder ball. Particularly with Rogers, I got the ball to dart across and it was nice to bowl on. We were disappointed not to get more wickets in that period."
"We put Rogers and Watson down which cost us a few runs - but we stuck to our guns. One thing we can't do is chase too much. We have to be very patient on Sunday morning. Australia know they could also build up a decent lead," he concluded.