Cricket Australia has called for explanations from the International Cricket Council (ICC) over the dismissal of Usman Khawaja on the first day of the third Test of the Ashes, further denting players' and fans' faith in this series' umpiring and the effectiveness of the Decision Review System (DRS).
Khawaja was given caught behind off Graeme Swann by on-field umpire Tony Hill before lunch and the batsman asked for the decision to be reviewed following a discussion with non-striker Chris Rogers. Third umpire Kumar Dharmasena upheld the decision, despite no evidence on HotSpot, the stump microphone or the replays to support the call.
"Cricket Australia has sought an explanation from the ICC on the dismissal of Usman Khawaja. In our view, the on-field decision and referred decision using DRS were both incorrect. CA remains a strong supporter of DRS and believes it is important that cricket continues to improve and build confidence in the DRS," Cricket Australia chief executive James Sutherland revealed in a statement.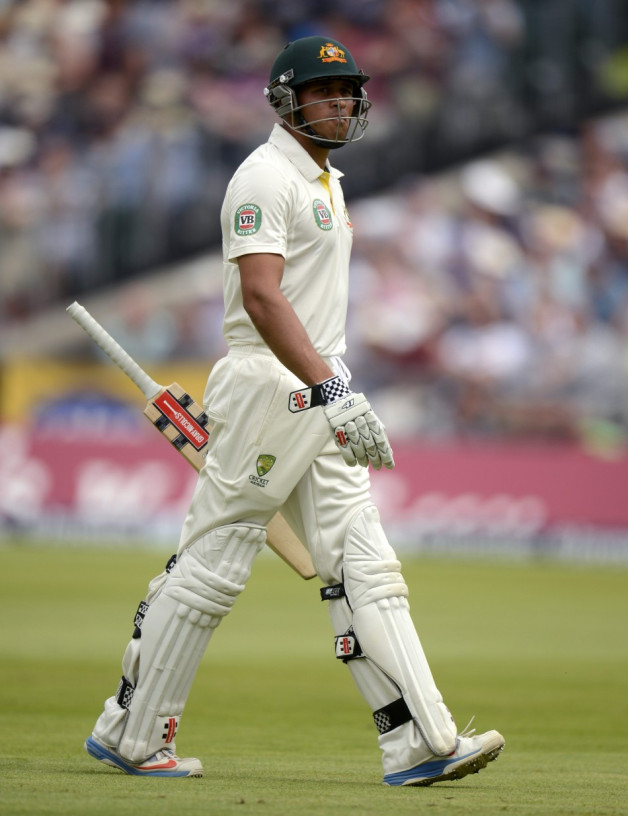 "We understand and accept that from time to time mistakes can be made, however in this instance, on behalf of the player, the team and all cricket fans, we feel duty bound to seek further explanation as to how this decision was arrived at," the Aussies chief added.
This is the second time in this series that teams have demanded clarification on controversial decisions by umpires, after the first Test at Nottingham saw unfortunate calls from officials. Australian prime minister Kevin Rudd was less diplomatic than Sutherland and slammed the decision as one of the worst ever.
"I've just sat down to watch the test. That was one of the worst cricket umpiring decisions I have ever seen," Rudd tweeted.
Former England captains Alec Stewart and Michael Vaughan also expressed their disappointment at the call.
"That is a ridiculous decision by both the on & off field umpires. DRS creating yet more controversy. Any wonder players don't walk!" wrote Stewart.
"And people say you should walk. No chance when you get decisions like that," Vaughan tweeted.
Meanwhile, Rogers said he was sure his partner did not edge the ball, even in real time, and pointed out that even the England players appeared resigned to Khawaja continuing at the crease, when they showed replays on the big screen at the time of review.
"I was up the other end. He said he didn't hit it and I said he didn't hit it. That was about it. Even in real time I didn't think he hit it; I didn't think he was anywhere near it. I thought it was not out and that's why we reviewed it. From what we saw on the replays I think even the England guys had given up hope of it being out. It was disappointing and another question-mark. It's a weird thing because it's people's careers on the line as well, so you want these decisions to be right," Rodgers stressed.