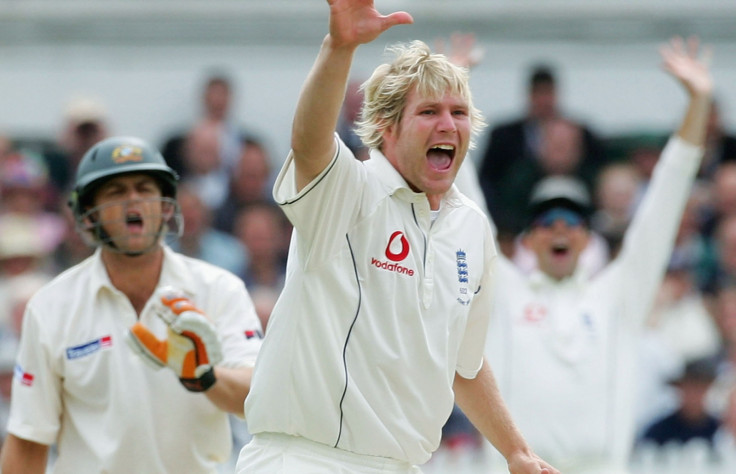 England can beat Australia and regain the Ashes if they evoke the spirit of 2005, according to former bowler Matthew Hoggard.
Hoggard took 16 wickets as England claimed their first series win since 1987 over an Aussie side that included Shane Warne, Ricky Ponting and Adam Gilchrist.
The series is regarded as one of the greatest in history, with England's fearless brand of cricket defining their success.
And Hoggard believes a similarly courageous style a decade on can prove successful and ensure England can stage another shock over their old rival.
"The key themes [from 2005] were don't get bullied and express ourselves and that is what is what we did," the ex-Yorkshire and Leicestershire seamer told IBTimes UK.
"We were lucky that we had six series wins under our belt, we went through 2004 undefeated and we had a feel good factor in the changing room.
"It was like a county atmosphere because we had a settled side. There was no backstabbing in the changing room, everyone was friendly with each other.
"Don't get bullied by Australia. They're going to come over and want to dominate England. So don't be frightened of them, don't be scared of them.
"The bowlers need to go out and bowl as a unit and not be scared of who takes wickets or jealous of anyone who has success."
Much of the build up to the 69th Ashes series has been dominated by Alastair Cook and Michael Clarke's pledge that both sides will clamp down on sledging.
The International Cricket Council are keen to crackdown on abuse during matches and requested prior to the World Cup that teams to show more respect.
But Hoggard says sledging is good for the game and that players are rare affected.
"It's been blown out of all proportion," Hoggard, speaking at a dinner hosted by Etihad Airways at Lord's, added. "You want sport to have a competitive edge. You want international players to play at the edge of their game and to be as close and intense as possible.
"You don't mind the odd words here or there. You talk about crossing the line, how many times have you seen sledging cross the line?
"The press love talking about it. You get more sledging on a Saturday afternoon at a village park than you do one an international cricket pitch.
"It's water off a ducks back because you've been brought up with it. It's part of the game and as long as it's not personal or vindictive then what is wrong with it?
"You want it played in the right spirit but you want an edge to it. As far as I am concerned sledging is blown out of proportion by everyone who is watching it."