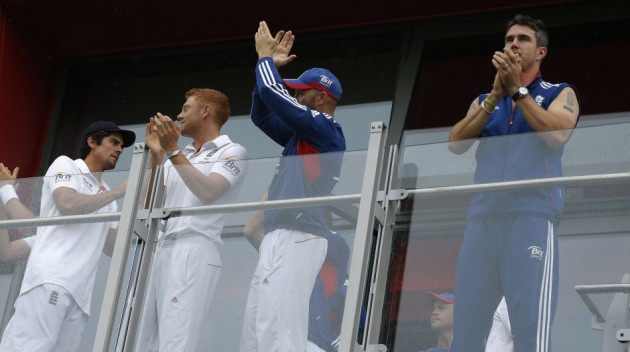 England have retained the Ashes series at Old Trafford after drawing with Australia on a sodden afternoon at Old Trafford.
The hosts needed a draw to seal the pivotal Test and win the series but where given an early fright when three Aussie wickets saw Alistair Cook (0), Jonathan Trott (11) and Kevin Pietersen (8) depart before lunch as England were reduced to 37-3.
Chasing a target of 332, rain delayed play for most of the afternoon ensuring that the gripping start to today's proceedings would be the highlight of day marred by the fickle Manchester weather, as Cook and his Australian counterpart Michael Clarke were left to shake hands on the draw that saw the hosts seal the series with an unattainable 3-0 lead.
A resolute Australia valiantly battled throughout the third Test inspired by Clarke's masterful 187 as the visitors rushed to 527-7 in their first innings before England bowled out for 368.
After reaching 127-7 in their second innings on Sunday, they had hoped to delay England celebrations further, but it wasn't to be as the hosts sealed victory with two Tests remaining.
England's top order lasted just 90 minutes before they were dismissed by the Australian bowlers. Opener Cook was trapped leg before wicket having failed to register a single run before wicket keeper Brad Haddin caught efforts from Trott and Pietersen soon after before weather took control of the proceedings and ensured the afternoon session saw just three balls before players were forced off at 2pm.
"It's a great feeling, a strange feeling. It's been a strange day for the lads but we've retained it after three games, played good cricket in the first two, fought hard and had a little bit of a luck today with the weather. It's nice to retain the Ashe," Cook told BBC Sport.
"It's been a really good series. We played well at Lords, Trent Bridge was a nail-biting game and in this game it was an important toss to win but Australia played well, put us under pressure getting 500 but we responded well with the wicket getting harder. We fought hard."
The Australians had impressively rallied after defeats at Trent Bridge and Lord's, but their resilience was broken for good today with the prospect of a 5-0 white wash still a possibility with Tests at the Riverside Ground and The Oval still on the horizon.
"It's obviously very disappointing. The Australian boys deserve credit for the way we played after Lord's but you can't take anything away from England," Aussie skipper Clarke said.
"When you play in the UK there's always a chance the weather will play a part and unfortunately it did. The plan was to declare and have 25 overs last night and that would have given us the whole day today and if we'd bowled like we did today it would have been plenty of time."