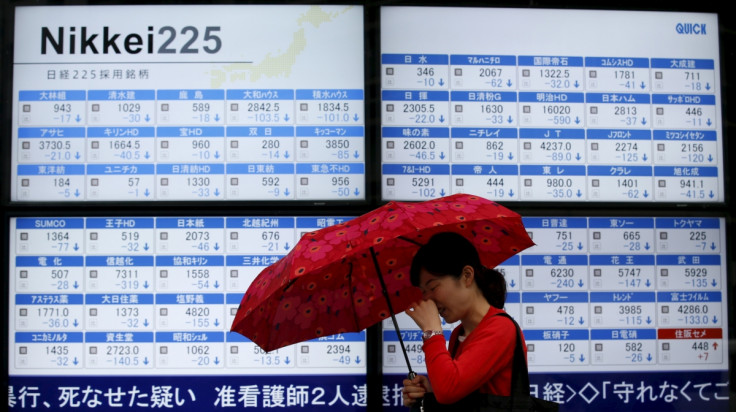 While China's Shanghai Composite remained closed for the Lunar New Year holiday, the majority of stock indices across Asia including Japan's Nikkei 225 were trading lower on 12 February. This followed a negative Wall Street and FTSE close overnight, amid increasing investor concerns over ailing European banks.
While this adds to the already existing woes of volatile oil prices and declining commodity prices due to the China slowdown, investors appear worried over the new monetary easing measures that central banks could adopt to help the banks improve their earnings.
Fears over a sell-off in the European banking sector gathered pace earlier this month, after Stoxx Europe 600 Banks Index – the gauge of the banking sector in Europe – recorded its sixth consecutive weekly decline, the worst fall since 2008.
This also follows John Cryan, chief executive at Deutsche Bank, publicly claiming that his bank was "rock solid", after the German lender's share price declined 4.27% on 9 February, marking a 46% decline since the start of 2016 and a 58% slump in the past six months.
Chris Weston, chief market strategist at IG said: "The idea that central banks are now fully targeting the interest rate structure and putting a gun to domestic banks' heads in a fight to stoke credit growth is in no way an equity-friendly story."
Indices in Asia traded as follows on 12 February at 5.06am GMT: Australia's S&P/ASX 200 was down 1.12% at 4,767.00; India's CNX Nifty was trading marginally higher at 6,982.95, up 0.09%; Japan's Nikkei 225 continued its bearish trend, trading down 3.61% at 15,146.21; Hong Kong's Hang Seng was down 0.57% at 18,440.41, and South Korea's KOSPI was down 1.43% at 1,834.99.
The Dow Jones Industrial Average closed down 1.60% at 15,660.18 overnight, while the FTSE 100 closed lower by 2.39% at 5,536.97 on 11 February. Among commodities, WTI crude oil was trading 5.49% higher at $27.65 (£19.11, €24.48) a barrel, while Brent was up 5.42% at $31.69 a barrel at 5.16am GMT on 12 February.