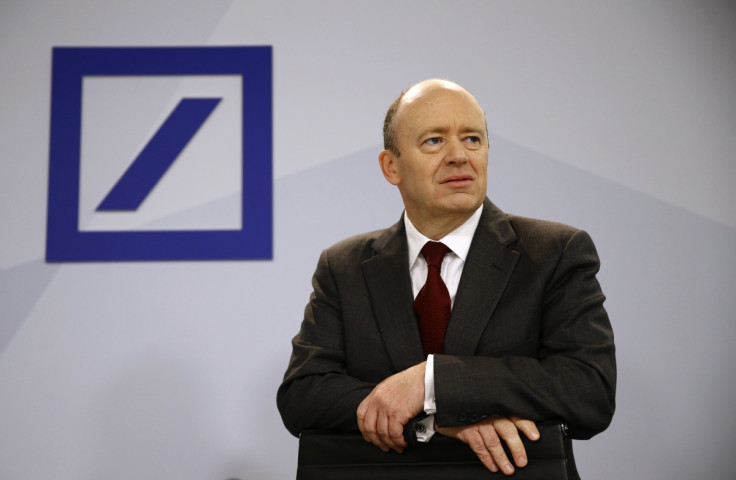 Following the recent decline in the share price of Deutsche Bank, its chief executive John Cryan has publicly claimed the bank is "rock solid". In a letter to the bank's employees, the British banker, who took over the lead role seven months ago, said: "You can tell them that Deutsche Bank remains absolutely rock-solid, given our strong capital and risk position."
He insisted there was no reason to panic and asked his employees to convey the message to the bank's clients. Wolfgang Schaeuble, Germany's finance minister, also took the unusual step of backing the CEO's claim. He reassured the bank's investors by saying: "I have no concerns about Deutsche Bank."
On Tuesday (9 February), shares of the Frankfurt-headquartered bank closed at €13.23 (£10.33, $14.94), down 4.27%. This marks a 46% decline since the start of 2016 and a 58% slump in the past six months. The decline is related to the poor financial performance of the bank, which reported an annual loss of €6.8bn for 2015, post which Deutsche Bank said that it would not pay its board members a bonus for 2015.
The crash in the share prices of Deutsche Bank have triggered fears over the entire banking sector in Europe. This fear has gathered pace recently after the Stoxx Europe 600 Banks Index, the gauge of the banking sector in Europe, recorded its sixth consecutive weekly decline, the worst streak since 2008. It also led to a sell-off in other European banks such as BNP Paribas, Barclays and Italy's Intesa Sanpaolo.
Some analysts have warned that the bank's worries are not over and that it may fail to pay the interest on its contingent convertible bonds, also referred to as "cocos", if it has to bear any large unexpected costs in 2017. However, Cryan told investors that they need not worry about these bonds as the bank has the capacity to pay their "coco" coupons.
"On Monday, we took advantage of [our financial] strength to reassure the market of our capacity and commitment to pay coupons to investors who hold our AT1 capital. This type of instrument has been the subject of recent market concern," Cryan said.
While a few analysts were pessimistic, a few others opined the decline in the bank's share price was an overreaction by nervous investors.