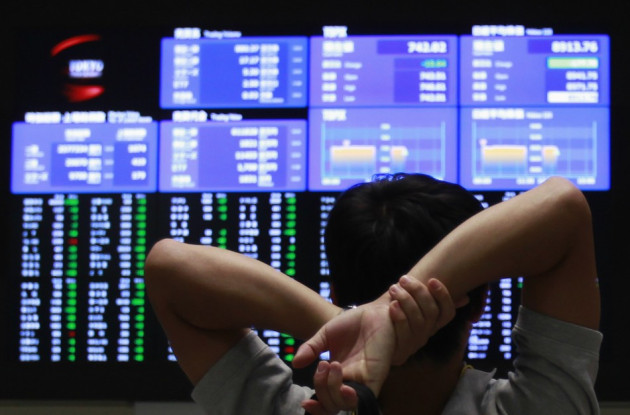 Asian markets have fallen as investors continue to be discouraged by the crisis in Spain and Greece. Sentiments have also been hit by the tepid response to the fiscal stimuli steps of central banks.
Japan's Nikkei stock average tumbled 2.03 percent or 184.84 points to 8906.70. Electronic component manufacturer Taiyo Yuden Co, which fell 9.31 percent, and machinery parts maker NTN Corp, which lost 5.78 percent, were the major losers.
Hong Kong's Hang Seng was down 0.83 percent or 170.95 points to 20527.73. Lifestyle brand Espirit Holdings and personal hygiene products maker Hengan International Group Co were the major losers falling 6.97 percent and 30.07 percent respectively.
China's Shanghai Composite Index fell 1.24 percent or 25.12 points to 2004.17 as navigation products manufacturer NavInfo Co, down 7.12 percent, and apparel maker Joeone Co, down 6.55 percent, performed the worst.
South Korea's KOSPI shed 0.55 percent or 10.97 points to 1980.44. Woongjin Holdings Co, which was down 14.99 percent, and publishing firm Woongjin Thinkbig Co, down 13.39 percent, were hit the most.
India's Bombay Stock Exchange was trading lower by 0.52 percent or 96.57 points to 18597.84 at 9:42 AM GMT. Telecommunications firm Bharati Airtel and coal producer Coal India were the worst performers, falling 4.71 and 2.47 percent respectively.
The eurozone crisis involving Spain and Greece is having a major impact on the market. Traders are keeping a close watch on the situation in the two countries as the governments try to manage their financial situation.
Results of stress tests on Spain's banking sector are expected to be released shortly and these could influence markets.
Marketmen also reportedly feel that not enough is being done to spur growth. "Many traders feel central bank stimulus is merely a sticking plaster for a broken leg, and that much more needs to be done to send the global economy safely on the road to recovery," said Justin Harper, market strategist at IG Markets, Singapore.
"The few bright spots we are seeing are having limited influence."
Shares of major Japanese automakers were down in Tokyo following reports that major companies like Nissan, Toyota and Suzuki will limit their production in China following low demand after the anti-Japanese sentiments in the country. Nissan lost 2.64 percent while Toyota fell 2.67 percent. Shares of Suzuki Motor Corp and Honda also ended lower by 0.59 percent and 4.17 percent.