Asian markets round-up: Bourses see mixed trade amid China volatility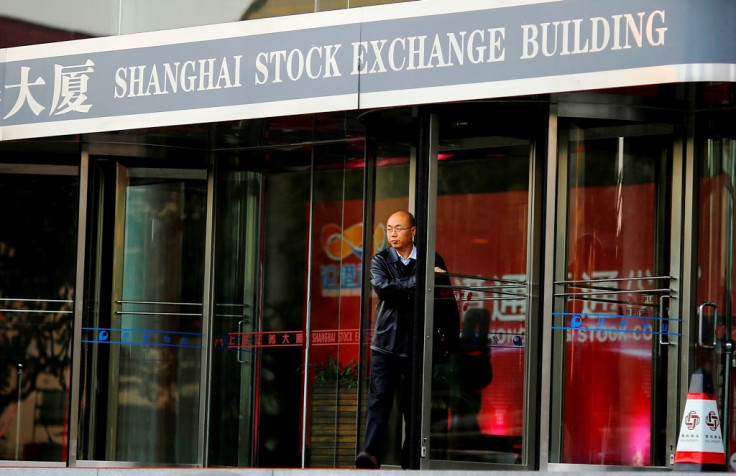 Asian markets witnessed mixed trade on 4 June amid volatile China trade, where brokerages are apparently curbing margin financing.
The Japanese Nikkei finished 0.07%, or 14.68 points, higher at 20,488.19.
The Shanghai Composite finished 0.76%, or 37.12 points, higher at 4,947.10.
Hong Kong's Hang Seng finished 0.38%, or 105.58 points, lower at 27,551.89.
Australia's S&P/ASX 200 finished 1.42%, or 79.30 points, lower at 5,504.30.
South Korea's Kospi Composite finished 0.47%, or 9.70 points, higher at 2,072.86.
India's S&P BSE Sensex finished 0.09%, or 23.78 points, lower at 26,813.42.
Market movements
The Shanghai Composite ended a tad higher after volatile trade, as liquidity concerns over this week's IPOs and rumours of restrictions on margin financing hit sentiment.
Brokerage house Golden Sun Securities reportedly halted all margin financing on the start-up board Chinext, which caters to small-cap companies. With much of China's equities rally being fuelled by liquidity, some analysts fear that this could bring the nation's bull market to a standstill, CNBC reported.
IG market strategist Bernard Aw said in a note to clients: "This is a worrying development for the Chinese equity bulls as margin financing may be curtailed in a big way if other brokerages follow suit. The rollover effect could damage the upward momentum seen in bigger markets such as the CSI 300."
The ASX settled at its lowest level since 27 January, pulled down by weak economic data.
ANZ Research said in a note to clients: "Australia's trade deficit widened to the largest deficit on record in April. Lower exports drove 60% of the deterioration, with lower resources exports the key contributor. Positively, manufacturing exports are trending higher. Looking ahead, weakness in commodity prices is likely to keep the trade balance in deficit until the end of 2015."
ANZ Research said in a separate note: "Retail sales were flat in April (mkt: 0.3%, ANZ: 0.1%), while March retail sales growth was revised down a touch to 0.2% m/m. While we could see a budget related bounce in retail in coming months, growth in consumer spending is likely to stay modest over the medium term. The lower AUD looks to be boosting clothing sales."
The Kospi rose on the back of the gains logged by Samsung Electronics, the top weighted stock on the benchmark index.
On the data front, gross domestic product (GDP) figures showed that the Korean economy expanded 2.5% year-on-year in the first-quarter, beating the central bank's forecast for a 2.4% rise.
Company stocks
In Tokyo, Retailer Rakuten lost 6.20%, after news that it proposes to issue new shares to raise about $1.5bn (£971m).
Heavyweight Softbank lost 1.17%, a day after announcing a $1bn investment in South Korean e-commerce firm Coupang.
In Shanghai, banking stocks surged. Bank of Communications shot up 10.03%, China Everbright Bank added 9.30% and Industrial Bank added 5.23%. ICBC gained 2.69%.
Brokerages Founder Securities and Citic Securities added 2.01% and 1.70% respectively.
In Hong Kong, Warren Buffett-backed automaker BYD shot up 8.81% after resuming trading following the approval of an A-share private placement of CN¥15bn.
Alibaba Pictures lost 5.80% after announcing it will raise at least $1.6bn from a share sale.
In Sydney, Metcash tumbled 17.69% after it cancelled its dividend and took a $498m impairment charge.
Fortescue Metals lost 6.17%, Newcrest Mining lost 3.26% while Metals X lost 2.74%. But Kingsgate Consolidated added 4.05%.
Most retailers, barring Harvey Norman, traded lower following downbeat retail sales data. Harvey Norman added 2.27% while Myer Holdings lost 2.78%.
National Australia Bank lost 2.06%. The lender is reportedly in exclusive talks with Japan's Nippon Life to sell its life insurance division, the Australian Financial Review reported.
In Seoul, Samsung C&T jumped 10.32% on news that US-based hedge fund Elliott has purchased a 7.1% stake in the construction firm.
Cheil Industries added 4.95%. Cheil, Samsung Group's de facto holding company, announced last week that the merger with affiliate Samsung C&T will take place by September.
© Copyright IBTimes 2023. All rights reserved.