Families of victims marched to the site of the sunken cruise ship in the Yangtze River past a police cordon in protest at the lack of information from local authorities.
Demanding news of their missing relatives, some 80 family members got on board a bus for an eight-hour journey from Nanjing to Jianli county in Hubei, and walked towards the rescue site on Wednesday (3 June) evening.
"This isn't going to be much use, we're just doing this for the government to see," said organizer Wang Feng, reported Reuters. The protesters broke through a police cordon of 20 to 25 officials.
While over 400 people still remain missing, with the majority being elderly, 14 people, including the ship's captain, were found alive.
The cruise ship capsized in a tornado on Monday night (1 June). Only 29 bodies have so far been recovered as divers work through the night in the hope of finding survivors.
"Although there's lots of work to do, saving people is still being put first," said Transport Ministry spokesman Xu Chengguang, reported Reuters.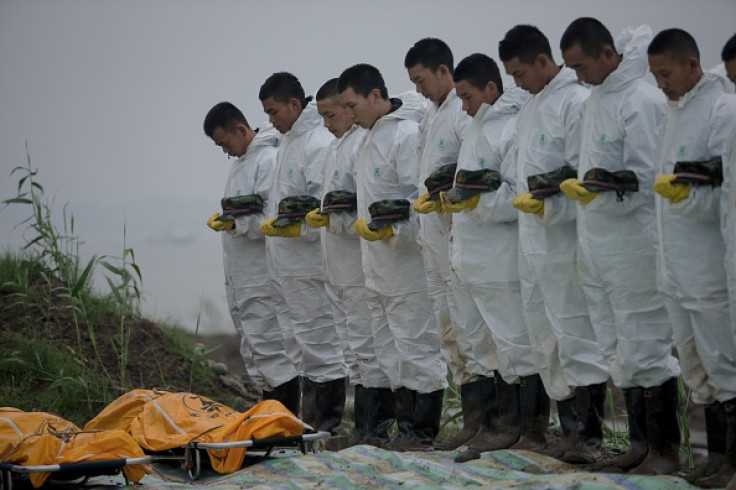 Mystery continues
Family members of the missing people are questioning why predominately crew members survived, despite there being sufficient life jackets to serve all passengers on board.
Questions are also being raised on why the surviving crew members had time to put on the life jackets while they couldn't sound the alarm.
The captain and chief engineer of the ship have been detained by the police for questioning as investigations continue.
The ship that was on an 11-day voyage from Nanjing, near Shanghai, to Chongqing overturned "within one or two minutes", according to the captain, reported Xinhua News.
The ship was held by authorities for investigations due to defects in 2013, however, it passed all inspections in May 2015.