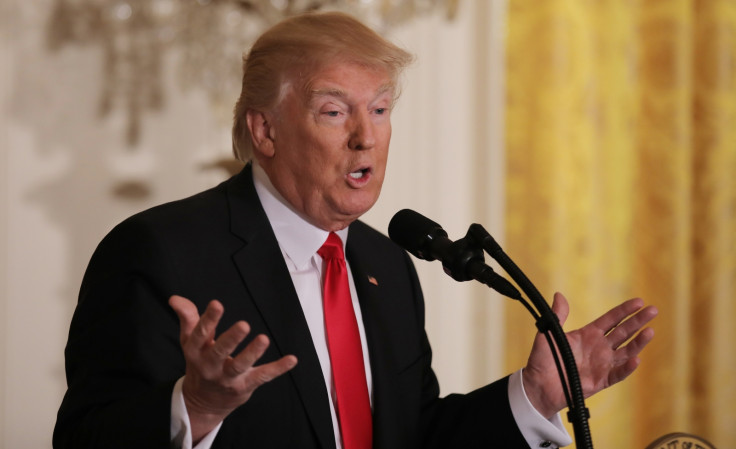 Asian stock market indices were trading lower on Friday (24 February), with the Shanghai Composite down 0.28% at 3,242.12 as of 4.59am GMT. The development follows Donald Trump's negative remarks on China.
On Thursday, the US President declared China the "grand champions" of currency manipulation. However, this did not come as a surprise as Trump had previously during his presidential election campaigns had frequently accused China of the same.
He had then said that China was keeping its yuan cheaper against the US dollar to help benefit China's exports. In a latest to this, Trump told Reuters that he had not "held back" in his assessment on the same, despite not declaring China as a currency manipulator on his first day in office, a promise he had made during his campaigns.
While these comments had a negative impact on investor sentiment, it came just hours after new Treasury Secretary Steven Mnuchin pledged a more methodical approach to analysing Beijing's currency practices. Unlike Trump, he told CNBC that he was not yet ready to pass a judgment on China's foreign exchange practices. A report on the same is expected to be published by the Treasury on 15 April and 15 October.
Commenting on these statements, Shuji Shirota, head of macroeconomic strategy at HSBC Securities said, "With Mnuchin officially sworn in, from now on, I suspect most comments on foreign exchange policies come from him. And he has said a strong dollar is in U.S. interests."
Indices in the region were trading as follows at 5:16am GMT:
Country
Index
Price
Up/Down
%Change
Hong Kong
Hang Seng Index
24,015.70
Down
0.41%
Japan
Nikkei 225
19,263.62
Down
0.56%
South Korea
KOSPI
2,093.69
Down
0.66%
India
BSE
Holiday
Australia
S&P/ASX 200
5,739.00
Down
0.79%
On 23 February, the FTSE 100closed 0.42% lower at 7,271.37 while the S&P 500 index closed 0.04% higher at 2,363.81.
Among commodities, oil prices gained amid a drop in crude inventories as a result of the production cut led by OPEC. As of 12.09am EST, WTI Crude Oil was up 0.04% at $54.47 (£43.41) a barrel, while Brent Crude was trading 0.09% higher at $56.63 a barrel.