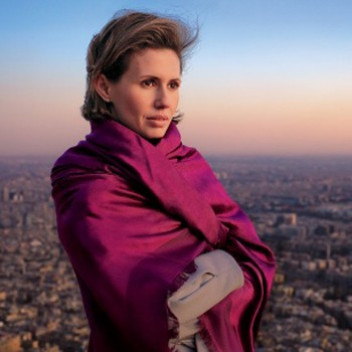 In a glowing interview published in Vogue in March this year, the magazine famously referred to the wife of Syrian president Bashar al Assad as a "rose in the desert" - while Paris Match proclaimed her to be an "element of light in a country full of shadow zones". But behind the glamorous veneer, who is Asma al Assad?
Known as "Emma" while growing up, 36-year-old Asma was born and raised in Acton, West London, and attended a local Church of England school before going on to achieve a first in computer science at King's College London.
The daughter of a Sunni Syrian family, originally from Homs, she first met Bashar al Assad during a family holiday to Syria. In 1998, she began working in the hedge fund management division at Deutsche Bank, but gave that up when she moved to Syria and married Bashar in 2000.
Since becoming Syria's first lady, she has been the focus of much national and international media attention, and has been lauded for her work in setting up charities and NGOs, as well as encouraging young people to take an active role in Syrian society.
But since the people of Syria rose up in March to protest against her husband's iron rule, there has been increasing speculation about where Asma's true loyalties lie and she has made no moves to condemn the regime's brutal crackdown on protesters.
Indeed, when confronted with the reality of the violence used against innocent civilians last week, she reportedly said nothing at all.
"We told her about the security forces attacking demonstrators. About them taking wounded people from cars and preventing people from getting to hospital... There was no reaction. She didn't react at all. It was just like I was telling a normal story, something that happens every day," The Independent reports a Syrian aid worker as saying.
It is hardly surprising, then, that the ill-timed Vogue interview has been pulled from the magazine's website. It seems no one wishes to be associated with any part of the Syrian regime anymore and many suspect that the polished, beautiful exterior of Asma al Assad belies the ugly face of Syrian authoritarianism.
But Chris Doyle, director of the Council of Arab-British Understanding (CAABU), said even if Asma was horrified by the murders being perpetrated in her husband's name, she would not be permitted to speak out.
"Whatever her own views, she is completely hamstrung," he said. "There is no way the regime would allow her any room to voice dissent or leave the country. You can forget it."