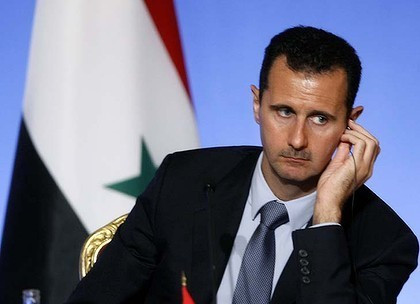 Syrian President Bashar al-Assad has called on Syrians to defend their nation from the "black cloud engulfing the country" in a rare public speech before a large crowd on Sunday 6 January.
"From this suffering and crisis we should find solutions," he said. "A national movement is the only solution. Every citizen is capable of offering the minimum - everybody should defend this country.
"Every citizen is fully aware now that to wait for others to solve the problem will lead to a disaster - we can not go forward while waiting for others."
The public address was Assad's first since November, when he dismissed rumours that he was to go into exile with the aim of ending the war. As he has consistently done, he said Syrian forces were fighting groups of "murderous criminals" and jihadi elements and denied there was an uprising against his family's rule.
Since Assad last spoke, the rebels have stolen a march across northern Syria, and have progressed into the outskirts of Damascus, where they have faced heavy army bombardment.
The opposition has gained international recognition as the West looks to consolidate opponents of the regime, but Assad called on his allies to remain firm, thanking China, Russia and Iran.
He condemned those who, he said, had "stood aside, stood silent" as the conflict continued, and defended his right to use force.
"Politically speaking we are for reform, but we should use force to defeat terrorism," he said. "The state is defending its people. There is no question about it, it is constitutional and legitimate, it is self-defence.
"Spreading their ignorance, they have tried to entrench suffering," Assad said of the opposition.
"Conflict is between the nation and its enemies - between the people and criminal killers. It's a conflict between peace, and the spreading of fear and terror. Is this a struggle over power or is it revenge? They are the enemies of the people, the enemies of God, and the enemies of God will rest in hell.
"They call it a revolution: it has nothing to do with any revolution. A revolution needs thinkers, it needs to be based on ideas. Where are the thinkers? A revolution cannot come from outside. They are a bunch of criminals."
The United Nations this week released figures indicating that 60,000 people have died in the conflict, which has now lasted for almost two years.