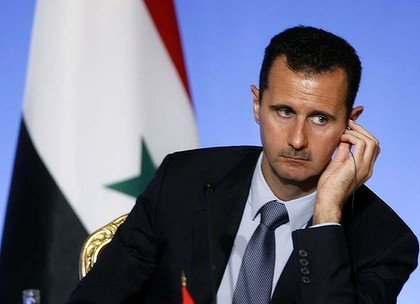 Syrian President Bashar al-Assad has pledged to extinguish the 17-month uprising against him and cleanse the country of "terrorists" as he insists on calling opposition forces.
In his first television appearance since 22 July, four days after a blast at the National Security HQ in the Damascus killed four close allies, Assad met Iranian security chief Saeed Jalili, who said only a Syrian solution could solve the conflict.
"The Syrian people and their government are determined to purge the country of terrorists and to fight the terrorists without respite," Assad said.
His absence from the public eye had triggered rumours about his health including a hoax Twitter claim that "quoted" Russia's ambassador to Damascus as saying Assad might have been killed.
Iran has accused Turkey and Gulf countries of arming the rebel opposition in Syria. Assad sent foreign minister Ali Akbar Salehi to Ankara and a letter to Washington holding them responsible for the kidnapping of 48 Iranians in Syria.
"What is happening in Syria is not an internal issue but a conflict between the axis of resistance on one hand, and the regional and global enemies of this axis on the other," Jalili said.
Jalili also issued a warning to countries openly or secretly supporting the rebels. "Those who believe that, by developing insecurity in the countries of the region by sending arms and exporting terrorism, they are buying security for themselves are wrong," he told Lebanese foreign minister Adnan Mansour, Iran's official IRNA news agency said.
Assad's forces continue to pound Aleppo, Syria's largest city, with air and artillery shelling.
At least seven people in the most recent fighting in the city, the Britain-based Syrian Observatory for Human Rights said. The nationwide death toll was 51.
Syrian rebels said that three of the 48 Iranian hostages who were seized by opposition forces near Damascus had been killed in government shelling.