The all-new Apple iPad will face some stiff competition from a Nexus-branded tablet to be brought out by Google and Asus in a few months time.
In December last year, a strong rumour related to the tablet came from the mouth of ex-CEO Eric Schmidt when speaking to Italian newspaper Corriere della Sera. During Mobile World Congress 2012 even Andy Rubin, the vice president of mobile at Google, gave a clear indication by divulging the company's plan to "double down" on tablets mainly targetting Amazon's Kindle Fire in terms of low-priced Android tablets.
Several indications point to a Google Nexus 7in tablet most probably expected to be manufactured by Asus. In fact the Asus Transformer Prime tablet has attracted many consumers and has earned the status of being considered as the best Android tablet yet in the market, even out-performing rivals from Samsung. Also analyst Richard Shim predicts that new tablet production units are expected to be between 1.5 million and 2 million units.
Although quite a few analysts predict the tablet being amied at Amazon Kindle, the features and specifications show that the tablet could clearly take on new iPad. The Nexus tablet is expected to feature 7in (1280 x 800) display, Nvidia Tegra 3 CPU and Android 4.0 (Ice Cream Sandwich). Given that Asus is expected to manufacture the tablet, Google Nexus tablet may sport a 1.3GHz processor, 1 GB RAM, 8-megapixel camera capable of capturing video at 1080p, 25Wh battery, HDMI port, microSD card slot and huge internal memory found in Asus Transformer Prime TF700T. And the possibility of NFC support cannot be ruled out. If these features are found then the tablet may come with a price tag of $250 similar to Asus's 7in Eee Pad MeMO 370T which was announced at CES. The new tablet from Google will feature Google's new Play Store support.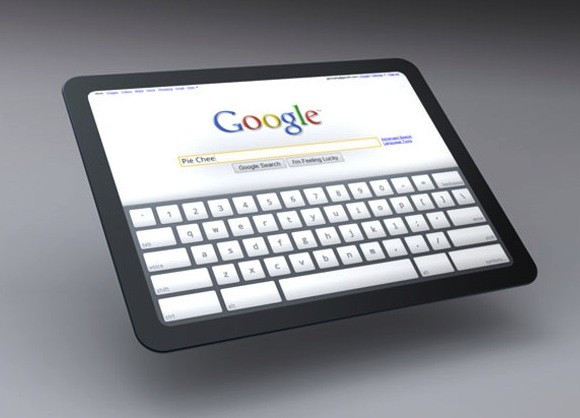 However with Google's aim of hoping to capture market share by competing with Amazon Kindle Fire and with the tablet also expected to come with a low price tag, we may see specifications similar to Kindle Fire like a 1GHz processor, 512MB RAM, 7in 1024 x 600 pixels display, 8GB storage and Li-Ion 4400 mAh battery. Also, a slightly more expensive 10in version of the Google tablet is rumored to come out as well. The heavily subsidised US price of no more than $199 will most probably see UK pricing of £150 to £199.
It's not going to be an easy task to compete against Apple's new iPad specifications: 9.7in 1536 x 2048 pixels display, 16/32/64GB storage with varied pricing, 4G LTE (though only in certain countries), a 5-megapixel camera, dual-core 1GHz processor and Li-Po 42.5Wh battery giving up to 10 hours battery life. Given the expected specifications of the Asus-manufactured Google Nexus tablet and the comments by Rubin at Mobile World Congress, we expect that the Nexus tablet will compete with the Amazon Kindle Fire rather than the Apple iPad. However, there are also rumors about Apple releasing a 7in iPad mini in near future, amd then the Google Nexus 7in version may prove to be strong competiton.
The battle between teh two giant companuies is set to heat up in the furute and the new iPhoto app for the new iPad, which was shown off last week, does not use Google Maps but instead it relies on the OpenStreetMap Foundation, a British not-for-profit organisation that offers free mapping data gathered by a worldwide army of 400,000 volunteers.
Presently, Galaxy Tab 7.0 Plus retails for $299 – $349 and the Tab 7.7 is available through Verizon Wireless for $499 with a two-year contract. Meanwhile the 7in Galaxy Tab 2 is selling in some European countries for $419 – $568.