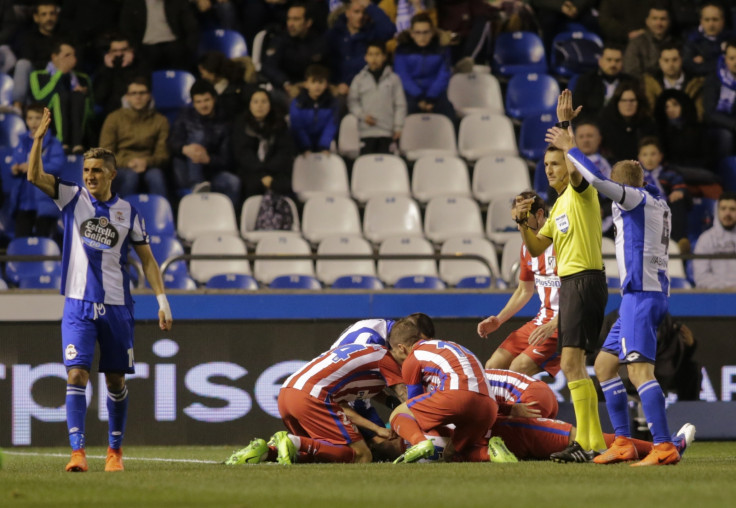 Atlético Madrid striker Fernando Torres is "conscious and stable" in hospital following a brutal head injury during a La Liga match against Deportivo La Coruna on Thursday (2 March). The Spanish footballer released a short message on the team's official Twitter account thanking everyone for their well wishes.
"Thanks to all for worrying about me and for your messages of support," the former Liverpool and Chelsea striker wrote. "It's just been a scare. I hope to come back very soon!"
The 32-year-old fell heavily following an 85th-minute aerial challenge by Alex Bergantinos, reported the BBC. Torres appeared to be unconscious while being tended by his teammates before Atletico medics rushed to his side.
The team said Torres suffered "a head trauma" and will spend the night in hospital under observation but scans reveal he has "no traumatic alterations or injuries".
Atlético coach Diego Simeone spoke of his anxiety when the dramatic incident occurred. "We heard the blow from the bench, we saw how he fell and we were afraid," he said in a post-match news conference. "We didn't know if that noise was Fernando's neck or not."
Torres' teammate Antoine Griezmann, who scored the game tying point against Deportivo, told reporters he was more worried about Torres than the score of the game. "Ultimately I don't care about the result. I only want to know how Fernando is and hope he is okay. And that he comes back to us as soon as possible," he said.
Atlético defender Filipe Luis added: "He is stable, he is okay. It's not only what Torres means on the field and for the club, he is one of [the] best people I know."
Deportivo took an early lead, scoring in the 13th minute with a goal by Florin Andone. Griezmann tied the game with a 68th-minute strike, according to Sky News. The draw puts Atlético fourth in La Liga and Deportivo in 17th.